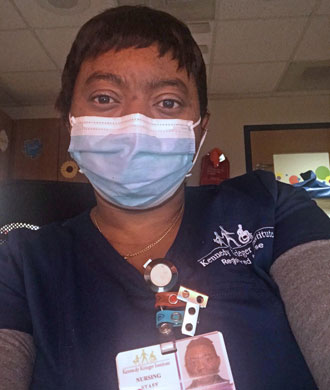 Folasade Onasanya, a nurse in our Neurobehavioral Unit (NBU), came to Kennedy Krieger from Nigeria, where she was greatly inspired by her high school principal. "He was someone who did things for the benefit of others," Folasade says. "I will never forget him." Inspired by her principal, she chose to pursue nursing, a career in which she helps others and makes a difference on a regular basis.
"Inspiring others is my passion," she says. Throughout the four years Folasade has worked at the Institute, she has certainly done just that. In addition to helping our patients and families, she has also inspired her colleagues, encouraging them to set goals, practice empathy, and trust the process.
Unfortunately, in our nation, it's still common for nurses to experience racial discrimination at work, and Folasade hopes to continue educating fellow health workers on cultural diversity and responding to racial discrimination from patients or others.
Folasade remains committed to healthcare. "I cannot imagine myself being happy or content with my career if it doesn't involve something in nursing," she says.
In honor of #BlackHistoryMonth, we celebrate Folasade and the exceptional Black medical professionals around the country who have made a significant impact on the healthcare industry