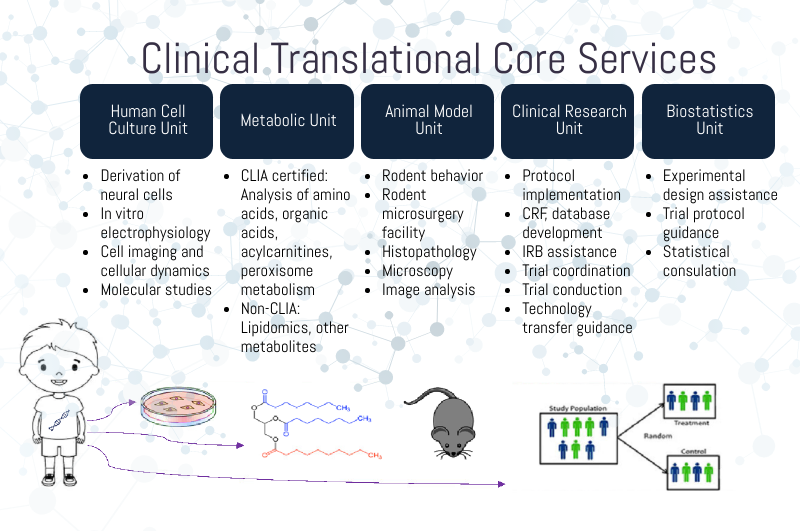 Human Cell Culture Unit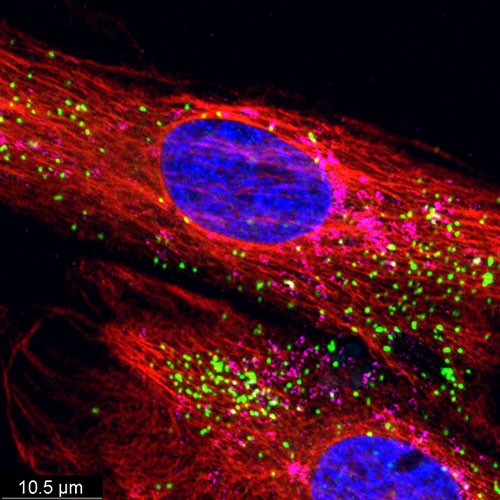 The Human Cell Culture Unit of the IDDRC Clinical Translational Core provides resources to conduct research on human cells with an emphasis on studying the effect of gene variants on cellular function in cells derived from human iPSCs of individuals with various genetic causes of IDD. Understanding cellular dynamics, such as how signals transmitted by hormones, growth factors, neighboring cells or the extracellular matrix are sensed by cells and can trigger changes in metabolism, gene expression, cell shape/cytoskeletal organization, membrane dynamics and behavior is key to advancing our understanding of neurobiology in disease, yet most of these processes have not been studied in detail for most IDDs. The Human Cell Culture Unit faculty offer consultation, hands-on training, and access to IDDRC-supported investigators for the following methods:
Cell Differentiation
Core faculty make available a library of viral vectors and plasmids that can be used to rapidly differentiate human and rodent iPSCs into motor neurons, hippocampal neurons and dopaminergic neurons. Cerebral organoids are also being developed and protocols and necessary equipment are available. In collaboration with Dr. Jonathan Pevsner, the Co-Director of the IDDRC Genomics Core and an expert in bioinformatics and genomics, the unit also provides assistance in new vector design for investigators who would like to develop new protocols. In addition, hands-on training, tissue culture hoods, and supplies are available through this Unit for investigators who do not have prior in vitro research experience.
Microelectrode Array
In addition to RNA and protein measurements, the Unit offers more comprehensive cellular functional readouts through the availability of the Maestro System, a microelectrode array system for high-throughput neuron activity recording (Axion MAESTRO Edge). Core faculty provide software and training in the use of the equipment and data analysis.
Cellular Dynamics
Through Dr. Nikki Heller, who directs the ACCM Functional Imaging Facility at JHU, IDDRC-supported investigators have access to a state-of-the-art live imaging technology using the IncuCyte S3 system (Essen Biosciences). This system permits, for example, the assessment of phagocytic activity of microglia over time, or the migration of neurons in a temporal manner, dramatically enhancing the functional readout of in vitro cellular models of IDD. The basic analysis software package and remote access to the instrument is provided to users as part of the service. Dr. Heller also offers users hands-on training, experimental design consultations, and troubleshooting assistance.
Metabolic Unit (MU)
The Metabolic Unit of the IDDRC Clinical Translational Core housed in the KKI Genetics Laboratories, offers CLIA-certified and College of American pathologists (CAP)-accredited facilities that provide clinical laboratory testing for neurometabolic diseases. For more information, please visit the Genetics Laboratories at Kennedy Krieger Institute.
Animal Model Unit
The Animal Model Unit of the IDDRC Clinical Translational Core provides comprehensive services to investigators who study animal models of IDD. Available models range from neonatal hypoxia-ischemia or inflammation in mice, rats and rabbits, to transgenic models of various genetic causes of IDD. Services include animal behavioral assessments, EEG and sleep analysis, microsurgical methods for intracerebral injections, animal perfusion, tissue microdissection, tissue cutting and histological slide preparation, immunohistochemistry, and microscopy, and image analysis. In addition, through the IDDRC Genomics Core and Neuroimaging Core, animals can be genotyped and undergo MRI and bioluminescence imaging. Through the expertise of Core faculty, IDDRC-supported investigators can receive consultation, hands-on training, and direct fee-based services for all these areas including the analysis. In particular, Dr. Sujatha Kannan has extensive background expertise in preclinical IND-enabling studies such as animal toxicology and pharmacology. Dr. Mary Blue has expertise in animal behavioral analyses, pathology, ICC, microscopy, image analysis, and morphometric analyses.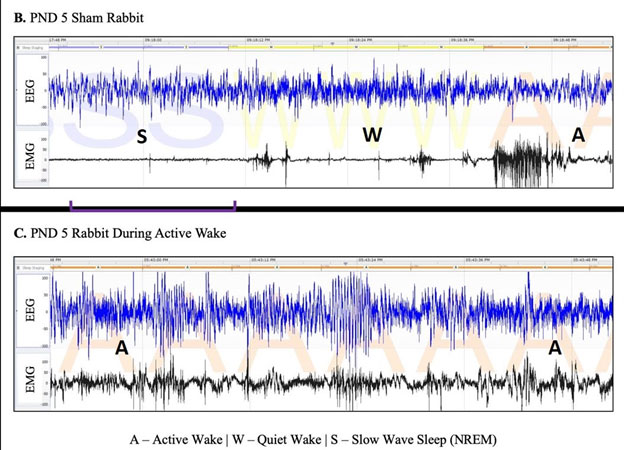 Animal Behavioral Suite
This facility includes open field testing, novel objection recognition, rota rod, Y- maze, challenge ladder, Von Frey anesthesiometer, beam walk, and "sticky-tape" task. For more information, please visit The F.M. Kirby Research Center's Behavioral Facility page.
Animal Surgery Suite
This clean facility is managed by Dr. Mary Blue and Dr. Ali Fatemi. It includes two surgical microscopes (including isoflurane anesthetics), two stereotaxic frames for intracerebral injections, a hypoxia chamber, and a downdraft table for animal perfusion. Training for Rice-Vanucci ligation, intracardiac perfusion, intracerebral injections, and tissue dissection is provided to IDDRC-supported investigators.
Histology Suite
Training and direct fee-based services are available for cutting of frozen or paraffin-embedded tissues, as well as common neurohistological and neuropathological stains and ICC. Assistance is also provided in troubleshooting different ICC protocols.
Confocal Microscopy
The JHU ACCM microscopy facility, comprises three pieces of imaging equipment available for use by IDDRC investigators: (1) a high-performance Leica TCS SP8 confocal system integrated with a fully automated DMi8CEL inverted microscope; (2) an entry-level Leica TCS SPE confocal microscope integrated with a DMI inverted microscope; and (3) an Inscopix nVista 2.0 miniaturized head mounted fluorescence microscope designed for real-time calcium imaging in the brains of non-anesthetized rodents.The unit also offers IDDRC-supported users with assistance and training for the prep as well as necessary reporter gene virus and baseplates is available, as well as for image analysis. Use of the equipment is on a fee-for-service basis and includes training and expert consultation. In particular, for the Leica TCS SPE confocal microscope, time is very competitively priced even during daytime hours. For more information about available confocal microscopy services, please click on the links below:
Clinical Research Unit
A major priority for the Clinical Translational Core and the IDDRC overall is to accelerate the clinical translation process, moving new agents, devices, and intervention methods into clinical trials, and eventually, to the marketplace and the community.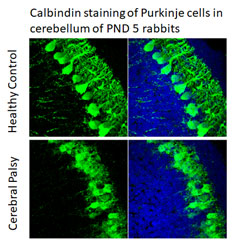 The Clinical Research Unit (CRU) of the IDDRC Clinical Translational Core provides guidance for moving from pre-clinical to clinical research, structuring clinical trials, and the mechanics for conducting such trials in the specific populations of interest. CRU staff provide customized assistance across a range of services on a fee-for-service basis, including the following:
Clinical Trial Protocol Development and Implementation
The CTC faculty provide consultation in developing clinical trial protocols and implementing various stages including feasibility, cost, and effort analyses, as well as budget negotiations with industry partners. In addition, CRU leadership provides guidance regarding FDA processes for review and approval of INDs and investigational device exemptions (IDEs). The CRU also assists in local IRB-related activities such as development of informed consent forms. Users receive assistance with protocol designs, assessing benefits and risks, describing procedures clearly in order to avoid inconsistencies, and preparing all recruitment and consent materials properly.
Recruitment of Research Participants
The CRU assists investigators with recruitment through the use of multiple resources, including existing patient registries within Kennedy Krieger and collaborations with several patient advocacy groups, specifically in the rare disease field. The CRU coordinates access to these resources and assists with developing recruitment materials (e.g., brochures and presentations) for IDDRC-supported investigators.
Clinical Trial Conduction
The CRU staff are very familiar with conducting clinical trials, including scheduling and coordination of visits, consenting procedures, patient surveys, and collecting research participants vitals and other relevant measures. The CRU faculty assist in developing case report forms (CRFs) for natural history studies and clinical trials. This guidance is closely coordinated with the Behavioral Phenotyping Core to ensure that the proper set of outcome measures are selected. CRF data collection and entry into various systems, preparation of IRB amendments, interaction with industry sponsors, and collection of tissue samples (such as phlebotomy) constitute other support services available through the CRU. Sample processing and storage are available. Skin fibroblasts and other tissues can be processed, evaluated and banked in collaboration with the Genomics Core.
Technology Transfer Assistance
To support efforts to move discoveries toward product development, Core faculty provide advice on the process of developing intellectual property, licensing discoveries, and interacting with potential industry partners for commercialization.
Biostatistics Unit
The Biostatistics Unit of the IDDRC Clinical Translational Core provides consultations in biostatistics to IDDRC-supported investigators across the entire scope of research. Dr. Luke Kalb, who oversees this unit, is a member of The Johns Hopkins University School of Public Health and thus has access and can direct investigators to a wide range of statistical resources. Specifically, the unit assists with power analyses needed for the experimental design of clinical trials, determining the feasibility of outcome measures for assessment of efficacy in clinical trials, strategizing data visualization, selecting appropriate statistical tests, and identifying advanced methods where appropriate. In addition, Dr. Kalb also assists in data analysis, interpreting findings, and writing up results. His knowledge of biostatistics and epidemiology is particularly important for early investigators with limited clinical research experience.