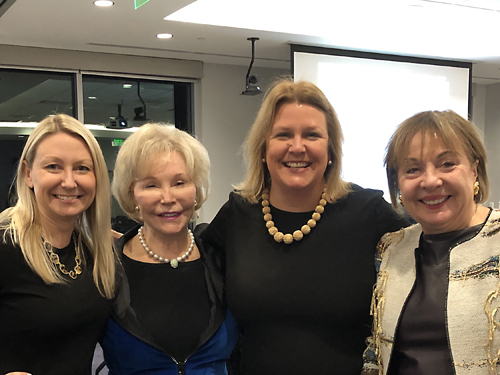 Kennedy Krieger Institute hosted its inaugural Women's Leadership Initiative event on February 28, drawing more than 100 faculty members, staff members and trainees from 30 departments and programs to discuss topics such as professional achievement, community service and mentoring. The event is intended to be held annually.
After welcoming remarks from Dr. Brad Schlaggar, Kennedy Krieger president and CEO, co-hosts Maureen van Stone, director of the Maryland Center for Developmental Disabilities, and Tina Schmitt, talent acquisition director at Kennedy Krieger, shared brief remarks and welcomed Dr. Nancy Grasmick, the first female chair of the Kennedy Krieger Board of Directors and co-director of the Center for Innovation and Leadership in Special Education.
Dr. Grasmick shared highlights of her experience as one of the first female school superintendents in the country. She introduced keynote speaker Mary Ann Scully, chair and CEO of Howard Bank and a former member of the Kennedy Krieger Board of Directors. Scully described the intersection of chance and choice over the course of her career and the importance of taking risks and being open to change, and emphasized the need for mentorship, especially for women. The evening concluded with an opportunity for attendees to network with each other and provide feedback about the event.