Determined to find the best treatment option for their son, Shepherd's parents turned to Kennedy Krieger Institute's Brachial Plexus Injury Clinic for help. This is his success story.
When Shepherd was born with little movement in his arm and shoulder, his parents Brooke and Andrew had never heard of Brachial Plexus injury. Determined to find the best treatment option for their son, Shepherd's parents researched Brachial Plexus injuries and the programs that could offer the best hope for recovery. Their research led them to Kennedy Krieger Institute. Although they would have to travel more than an hour to come to Kennedy Krieger, at the conclusion of their first appointment, the family realized the Institute would be a game changer for Shepherd. During that first visit when Shepherd was just three weeks old, the treatment team felt confident that Shepherd could gain mobility in his arm.
The family had several goals for Shepherd as a patient at the Brachial Plexus Clinic. They wanted to increase his arm and shoulder movement as well as regain movement in his fingers.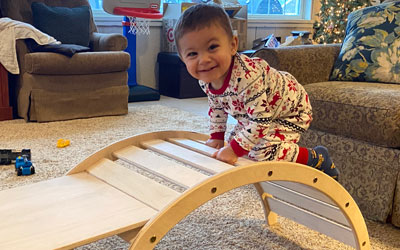 The interdisciplinary team at the Brachial Plexus Clinic was able to put together a treatment plan that included occupational therapy. While he started coming to his therapy appointments in person, once the pandemic hit, Shepherd's appointments transitioned to telehealth.
During the occupational therapy sessions, Shepherd's therapist was able to stretch the muscles and work his arm to increase his strength and use of the arm. The family also learned how to practice movements and stretches at home and how to select toys that have a turning component to help improve specific movements. Additionally they focused on activities in the backyard that incorporated playtime with activities suggested by the therapist that would engage all of his muscles. They also had to educate family members and friends about the injury and teach them how to properly hold Shepherd so that he could continue to make improvements.
After only a year as a patient in the clinic, Shepherd made tremendous progress. He was able to meet all of his goals. The staff worked as a team and always took the time to make him feel like their only patient, according to Brooke.
"From the very beginning of our journey with Kennedy Krieger, we have been so amazed at how each staff member has such a positive impact on us—from the time you enter the front door to the clinic staff, every staff member was just so positive and willing to help."
Today, Shepherd is an active and energetic toddler who loves to climb and play catch with his father with few limitations. Due to his brachial plexus injury, his shoulder blade will sometimes look like it is "popping out." Having occasional shoulder issues is a side effect from the brachial plexus injury. Although he is no longer a patient in the clinic, Shepherd will return to Kennedy Krieger as he grows to catch any problems or concerns down the road.