Request No. 1: $10 million to build and outfit an innovative inpatient neurorehabilitative care center. This state-of-the-art facility will replace our nearly 60-year-old hospital on our Broadway Campus in East Baltimore, and will increase our capacity to care for children with complex rehabilitative needs.
The Need: An Innovative Care Center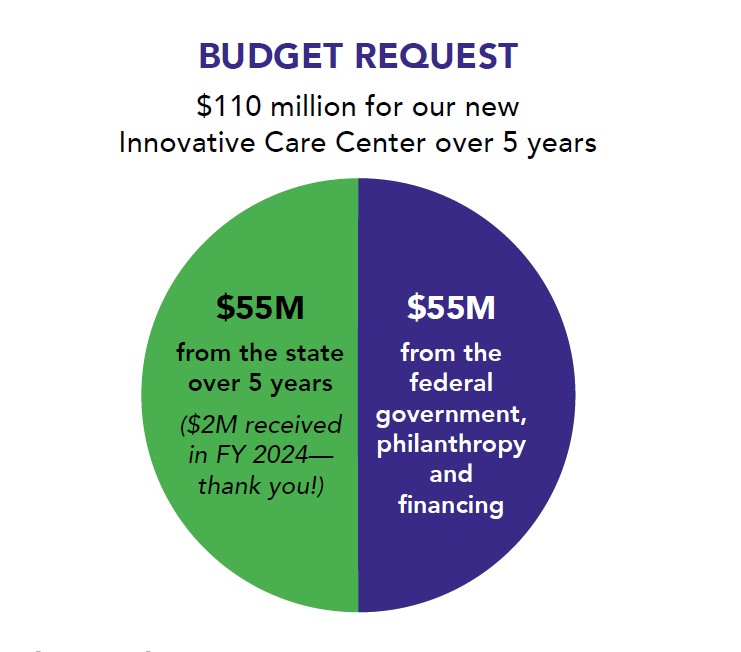 Build a facility that matches the special, complex needs of the patients we serve, and of those who are waiting to receive services
Create a more holistic and healing, rehabilitative environment
Construct a dynamic, flexible space that will address the nuances of the ever-changing pediatric specialty healthcare landscape
Tailor patient- and family-centered spaces to long-stay needs (average stay is 28 days)
Increase our capacity, improving access for inpatient pediatric and young adult neurorehabilitative and neurobehavioral care
The Impact:
Kennedy Krieger provides neurorehabilitative care for medically and behaviorally complex children. We need an up-to-date facility to deliver the latest rehabilitative therapies to ensure children, teens and young adults can live their best lives.
Our new Innovative Care Center will enable parents to work virtually while supporting and participating in their child's care and maintaining important aspects of their lives.
The Vision:
Built on property the Institute already owns
Effectively designed, with the latest in rehabilitation technology
Private rooms and indoor and outdoor therapy spaces
We'll be able to serve more children, teens and young adults from Maryland and beyond, including those with catastrophic illnesses and injuries, and we'll bring more jobs and revenue to Baltimore and Maryland.
Specially designed rooms will control the sensory environment (sights, sounds, lighting, etc.) to help patients recover from disorders of consciousness.
We are partnering with Ronald McDonald House Charities Maryland to include a family respite center and highly innovative family apartments to help parents and other caregivers transition their child from hospital to home.