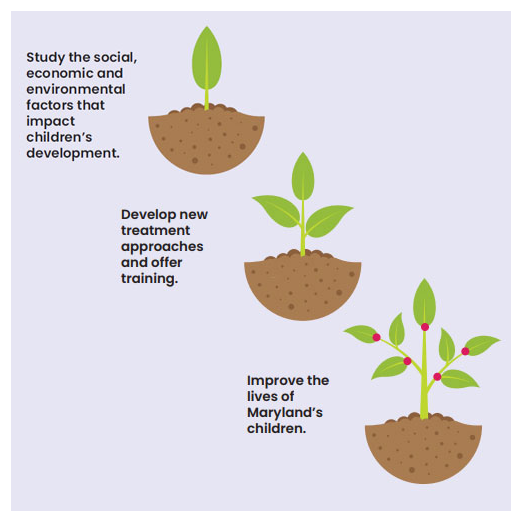 The Center for the Neuroscience of Social Injustice will:
Address the immediate needs of the Maryland community by developing a better understanding of the impact of social influences and injustices on child development.
Allow Maryland to be a national leader in understanding and addressing the effects of social injustice on children.
Work closely with Kennedy Krieger's Center for Child and Family Traumatic Stress (CCFTS), which offers clinical treatment for children experiencing trauma, depression, anxiety, behavioral and other conditions that can result from social injustice.
Learn the exact mechanisms by which social injustice affects child health and outcomes. Study CCFTS data and data collected from the community to determine the best approaches—and develop new approaches—for treating the effects of social injustice on children.
Offer training opportunities for scholars from underrepresented groups and members of the community.
Help children as soon as it opens, coordinating new treatments and therapies through clinical and community providers.
We ask for your support, so that together, we can improve the lives of Maryland's children. Our children cannot wait. Children's lives and future livelihoods—and the success of our state—depend on it.