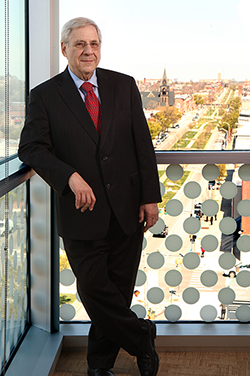 BALTIMORE, February 26, 2018 – Kennedy Krieger Institute announced today that it has launched a national search to identify a successor for its CEO and president, Dr. Gary W. Goldstein, who has announced his plans to retire once a successor has been named, which is expected to occur in the next few months.
Headquartered in Baltimore, Kennedy Krieger is dedicated to improving the lives of children and adolescents with disorders and injuries of the brain, spinal cord and musculoskeletal system. The Institute provides care at its inpatient rehabilitation hospital and multiple outpatient centers, and through a wide range of community-oriented programs. It also operates schools and embedded school programs on multiple campuses that educate and support students with complex special needs.
"It has been a great privilege to lead Kennedy Krieger Institute over the past 30 years. Through our interdisciplinary approach to patient care, research, professional training and special education, we have positively impacted hundreds of thousands of children, young adults and families. We've grown to become one of the largest academic institutions in the world serving children with developmental disorders and their families," Dr. Goldstein said.
In the three decades of Dr. Goldstein's tenure as CEO and president, Kennedy Krieger has seen substantial growth in virtually every aspect of its work. In particular, the number of patients it treats each year has grown from 2,700 in 1987 to 24,000 in 2017, and the amount of funding it receives each year for translational research has grown from $700,000 at the beginning of Dr. Goldstein's tenure to more than $30 million in 2017.
"Dr. Goldstein has taken research at the Institute to the next level, in terms of the professionals he's brought on board and the facilities he's promoted," said Dr. Amy Bastian, chief science officer for the Institute. "He constantly challenges us to think about not only the science behind the research, but also the children who are living with a serious or rare disease—the children we want our discoveries to help."
Under Dr. Goldstein's leadership, Kennedy Krieger saw immense growth in its special education programs, with the establishment of three campuses for students with disabilities: the Fairmount and Greenspring campuses in Baltimore, and an additional campus in Montgomery County, Maryland. With an expanded curriculum that accommodates students with developmental, learning and physical disabilities, Kennedy Krieger now educates more than 550 students a year, up from 41 students nearly 30 years ago.
"Under Dr. Goldstein, the Institute grew to embrace, in a very significant way, educational opportunities for students with developmental disabilities," said Dr. Nancy Grasmick, co-director of the Institute's Center for Innovation and Leadership in Special Education, and member and rising chair of the Institute's board of directors. "One doesn't see that happening often at medical institutions—it's very rare."
In addition to his role as president and CEO, Dr. Goldstein is also a professor of neurology and pediatrics at the Johns Hopkins University School of Medicine. Before returning to Baltimore to lead Kennedy Krieger in 1988, he completed residencies in pediatrics, neurology and child neurology, and was the director of the pediatric neurology program at the University of Michigan—Ann Arbor.
"On behalf of the board, I would like to thank Dr. Goldstein for his career of service to Kennedy Krieger Institute, and for his leadership during a time of immense growth," said Howard B. Miller, chair of the Institute's board of directors. "I've watched the hospital, clinics, school and community programs all flourish due to his dedication and leadership."
Among his many civic activities, Dr. Goldstein was a founding member of Autism Speaks, the largest national foundation for raising awareness about autism and improving outcomes for individuals with the disorder; is a member of the Scientific Advisory Council for the Cerebral Palsy Foundation; and is former chair of the Scientific Advisory Committee for Autism Speaks. He was recently recognized by The Daily Record as one of 2018's most influential Marylanders, who constantly strive to improve the lives, state and future of Maryland.
Following his retirement as president and CEO, Dr. Goldstein intends to work with the Kennedy Krieger Foundation, which raises funds for important Institute initiatives.
About Kennedy Krieger Institute:
Internationally recognized for improving the lives of children and adolescents with disorders and injuries of the brain, spinal cord and musculoskeletal system, Kennedy Krieger Institute in Baltimore, Maryland, serves 24,000 individuals a year through inpatient and outpatient clinics, home and community services, and school-based programs. Kennedy Krieger provides a wide range of services for children with developmental disorders, from mild to severe, and is home to a team of investigators who are contributing to the understanding of how disorders develop, while at the same time pioneering new interventions and methods of early diagnosis. Visit KennedyKrieger.org for more information about Kennedy Krieger.