By Christianna McCausland
If you saw Madison Plaisance at her prom, you might have mistaken her for a princess. And she would say you were correct. "She told everyone she felt like Cinderella that night," says her mother, Christie Plaisance. The 18-year-old twelfth grader at Kennedy Krieger School in Montgomery County allowed her mother to apply makeup before she slipped into her gown and sparkly jewelry. The school's first-ever prom was a memorable night for Madison, but it was special for her mother, too.
"I have to admit, I cried as soon as I dropped her off and walked out that door because I never thought she'd have that experience [of prom]. It was the most memorable experience of my life."
Madison has moderate to severe autism and a mood disorder. As the founder of the parent support group at her daughter's school, Plaisance knew other parents wanted their children with autism to participate in that most celebrated of teenage rituals, the prom. Frankie Galli, 14, a student at Georgetown Day School, and Lauren Etherton, a 17-year-old student at Albert Einstein High School, who both have siblings at Kennedy Krieger's Montgomery County School, felt the same.
"I feel like prom is such a big thing for high school, a big step toward adulthood, and a part of growing up," says Etherton, "and I was bummed that [my brother] Justin didn't get that experience."
Prom Committee
Lauren Etherton and Frankie Galli's mother approached administrators at Montgomery County with the idea of organizing a prom with the help of students from Etherton and Galli's respective schools. Principal Joanna Sandusky welcomed the idea and faculty and administrators put their support behind the effort, which would take many months to plan and execute.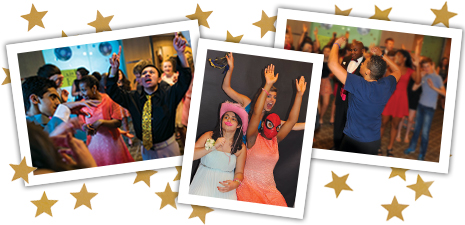 Students from Albert Einstein secured a DJ and created play lists for the event with input from Kennedy Krieger students, as well as handling day-of décor and set-up. The Galli family hosted a fundraiser at SoulCycle in Washington, D.C., that raised enough money to pay for the prom essentials for this year and next. Frankie Galli and her friends from Georgetown Day School volunteered throughout the year at the Kennedy Krieger School, getting to know the students and working on prom preparation, teaching the students popular dances and making video "social narratives" that explained prom-related scenarios like how to ask someone to dance.
Monica Shah, a teacher at the school, explains that "Children with autism often have difficulty with new scenarios. Social narratives answer questions like who will be at prom? When is prom? Why do we have prom? It is very specific information that helps the children understand what to expect."
Dressed to Impress
The day of prom, Lauren Etherton made a final PowerPoint presentation to the students that covered every aspect of the event. A parent secured gift cards for each of the female students to use prior to prom at Blue Mercury, a high-end cosmetics store in D.C. The store closed for an hour the day of prom to give the girls the opportunity to have their makeup applied. Other students chose to get ready at the school with the help of teachers.
Late in the afternoon on May 29, about 25 students from the Kennedy Krieger School met up with their typically developing peers from Albert Einstein High School and Georgetown Day School at a clubhouse in Chevy Chase, where a flower-lined walk led the way into a lobby with comfortable seating and snacks. After a little mingling, all the students had dinner—sliders, quesadillas, and chicken fingers—then there was dancing to the hand-selected play lists and a photo booth with props like over-sized glasses and fake lips so the kids could take goofy photos.
In most respects, it was a typical prom, though this one happened to have a quiet room with soft lights, bean bags, and noise-canceling headphones available, things that would be comforting to students with autism who might need a "sensory break" from the fun. Instructors from ZamDance, a company that conducts exercise and dance workshops for students with disabilities, kept the dance floor hopping.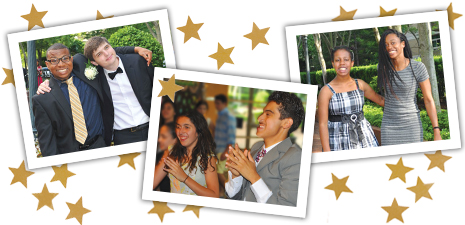 More Than a Dance
Teachers say the interaction between the Kennedy Krieger students and their typically developing peers was invaluable.
"They were able to model typical behavior at a prom," says Hannah Wayne, a teacher at the school. "So often we are focused on teaching appropriate, calm behavior that we can forget typical teen behavior might be to jump up and down when you're dancing."
Etherton says her friends from Albert Einstein reported having more fun at Kennedy Krieger's prom than any others they'd attended. Her brother Justin, 19, took a bit more convincing.
"He was a little hesitant because it's something different from his normal routine, but he told me he had a great time," she says. "I drove him home and as soon as we got in the car he thanked me and said, 'You did a good job,' and that made it all worth it for me."
Related Story: