By Laura Thornton
As an inventory technician at Kennedy Krieger Institute, John Perry spends much of the workday stocking, packing and delivering supplies to various departments at Kennedy Krieger. But his favorite part of the day doesn't involve inventory at all.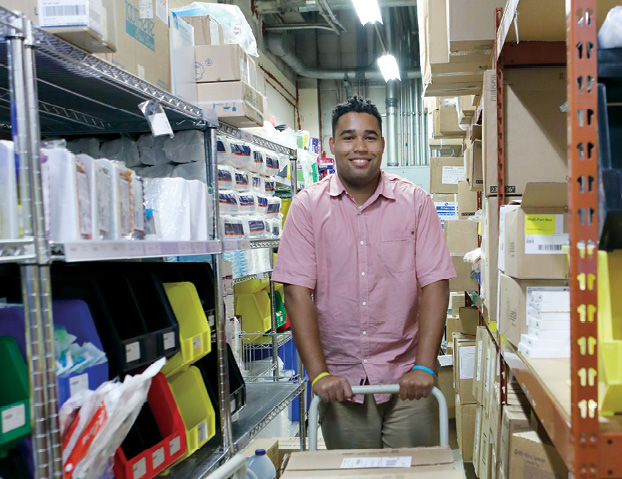 "I love working in the parking garage," says Perry, 22, who has autism spectrum disorder. "I love cars. Mustangs are my favorites."
Perry graduated from Kennedy Krieger High School's certificate program this past June. During his last year of school, he participated in Project SEARCH, an internship program for young adults with neurodiverse traits. He interned with different departments at the Institute and attended professional development classes. The Institute's Facilities Department hired Perry at the end of the program.
"We had a position open for our inventory control team. John had interned with us during Project SEARCH, so we knew he could do the job," explains inventory technician Shawn Fallin, Perry's mentor.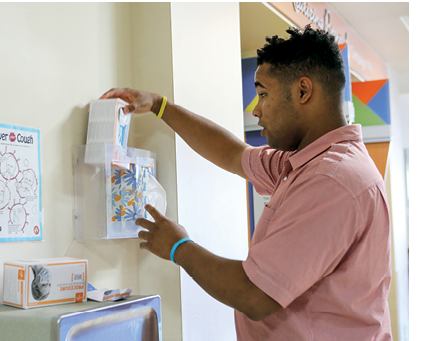 But of all the internships Perry did during Project SEARCH, he most enjoyed picking up trash in Kennedy Krieger's Broadway Campus parking garage, and "I didn't want to take that away from him," Fallin says. So every afternoon, Perry takes a break from delivering supplies and heads over to the garage to keep it looking tidy. It's the perfect midday assignment for Perry.
Since joining the Facilities staff, Perry has impressed everyone with whom he's worked. Fallin initially accompanied Perry on deliveries, but Perry soon started making deliveries on his own. One day, Fallin received a call from a department to which Perry had recently delivered supplies. "They liked John so much, they wanted to know if they could contact him directly for their supplies!"
"John always has a smile on his face and is always very excited to work," says Bayadir Mohamed-Osman, an employment training specialist with Project SEARCH. "His personality shines through whatever he does—and he always remembers what kind of car I have."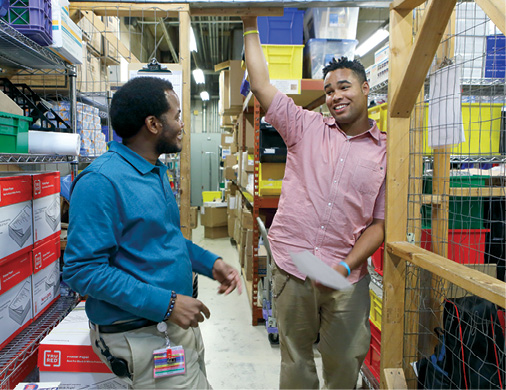 When Mohamed-Osman gives Perry feedback, "he incorporates that into his job," she says. "He takes initiative and brings the feedback up the next time we meet. I'm really proud of him, and of how he's become such a great employee and colleague."
Perry is one of six staff members hired by Kennedy Krieger since 2018 through the Institute's HR Pathways Hiring Program, part of the Institute's Neurodiversity at Work initiative. Three are mentored by Kennedy Krieger's CORE Foundations program, which supports individuals with neurodiverse traits working at Kennedy Krieger and in the community.
"I've been so impressed by John's growth as a professional," says Rebecca March, EdD, Project SEARCH coordinator. Perry's ability to be independent—scheduling his own rides to work and taking ownership of his job duties—has been the most significant change she's seen in him. "All of these independent tasks have allowed John to become more confident and feel successful."
"John's attitude is always very positive, and he's a great colleague," Fallin adds. "Working with him has helped me better understand individuals with autism—and that's living the mission of Kennedy Krieger."
Visit the Neurodiversity at Kennedy Krieger site to learn more about the Institute's HR Pathways Hiring Program, Neurodiversity at Work Initiative, Project SEARCH and CORE Foundations.