By Laura Thornton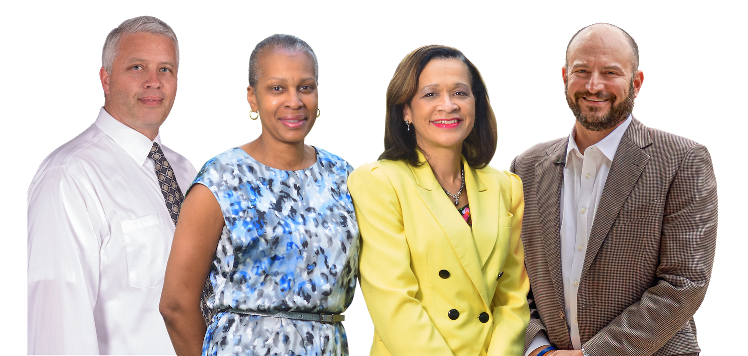 "The reason why we do what we do every day is because we want every single person to have full access to every opportunity they should have available to them," says Dr. Bradley L. Schlaggar, president and CEO of Kennedy Krieger Institute.
"That's right at the heart of what we're doing. We want to make sure our patients and students have every opportunity to live satisfying, gratifying lives. We make that happen by adhering to the fundamental philosophy that the world is a better place by having the doors open to everyone."
At Kennedy Krieger, that goes for patients and students, and their families, as well as employees and trainees. "We proclaim the importance of inclusion on behalf of the people we serve, and we also live by that internally," Dr. Schlaggar says. "This inclusive approach benefits everyone, and our work and workplace benefit because we have a diversity of perspectives. It's a driving force for our mission, and we're always striving to do better. It's how we live our daily lives as an organization."
Kennedy Krieger was founded in 1937 to provide medical care and education to children with cerebral palsy. U.S. public schools weren't required to serve children with disabilities until 1975, but long before then, the Institute's patients could get the therapies and education they needed to live as independently as possible—a revolutionary achievement at the time.
Kennedy Krieger has never wavered in its mission, increasing its reach to allow hundreds of thousands of children to live their lives as fully engaged in family, school and community life as possible. At Kennedy Krieger, even the rarest of disorders, affecting only a handful of people in the world, are given full attention by clinicians and researchers—every child is worthy of the best healthcare and education possible.
Equitable Access
As 2020 has shown us, access to quality healthcare is far from equitable across the country. It's especially lacking in rural communities and cities. Even in Baltimore, a city of world-class medical institutions, a lack of health insurance or reliable transportation can leave many children and families without the care they need. And chronically underfunded public schools are often unable to meet the requirements of students' individualized education programs.
Through ongoing efforts, Kennedy Krieger strives to meet these needs to make childhood more equitable. Kennedy Krieger School Programs serve children from Maryland, Virginia and Washington, D.C., whose needs cannot be met by their local school systems. Some of Kennedy Krieger's students travel up to four hours a day via school bus to attend school at the Institute. And during the COVID-19 pandemic, with students learning from home, Kennedy Krieger teachers and staff members have worked tirelessly to ensure each student and family has access to the technology they need for the student to attend virtual classes and therapy sessions.
What bind us together as a community at Kennedy Krieger are our shared values and belief system that every individual in our society, without exception, has the basic right to achieve their fullest potential."
– Dr. Bradley L. Schlaggar
It's the same with medical care—Kennedy Krieger even provides taxi service for local patients and families in need of transportation to and from the Institute for appointments. Translation services are available for families who do not speak English. Special clinics and programs are dedicated to serving families who are Hispanic, d/Deaf* or hard of hearing, and Jewish. Clinicians and other staff members are trained in providing culturally-sensitive care and services.
"The more we are attuned to culture and cultural competence, the more effective we are in providing the best outcomes in health and education. It's the right thing to do from a societal perspective, but also the right thing for each individual patient and student, to provide an equitable and diverse environment to optimize outcomes," Dr. Schlaggar says. "To provide the best care possible, we have to take into account an individual's entire life circumstances, not only the symptoms at hand."
"That requires recognizing that structural and institutionalized racism exists in U.S. society, and that we must develop an anti-racist system of care for children, youth and families," says Dr. Harolyn M. E. Belcher, the Institute's chief diversity officer and director of the Institute's Office for Health, Equity, Inclusion, and Diversity.
An Anti-Racist System of Care
"There's a huge gap in income between those who have, and those who do not have, and that gap is worse for people of color," Dr. Belcher says. Generations of unequal access to employment, housing, healthcare, education and other services have created and worsened the gap, and these inequalities are often accompanied by adverse experiences such as hunger, poverty, violence and racism, all of which can lead to trauma, especially for children. "We must reimagine systems of care to make life more equitable, in terms of policies and practices, and also in terms of integrating mental and physical health services, to address trauma experiences."
"A huge component of equity, diversity and inclusion is our anti-racism efforts," says Dr. Jacqueline Stone, Kennedy Krieger's chief clinical officer. "The critical piece is that this becomes a part of what we do every day. We are infusing it into who we are as an organization and infusing it into our day-to-day operations."
Kennedy Krieger is currently working to establish the Center for the Neuroscience of Social Injustice to study these adverse conditions and develop evidence-based approaches to providing care for children experiencing these conditions as they grow up, Dr. Stone says. The center will build on work the Institute has been doing in this field for decades, and its work will have positive and far-reaching implications for children in Maryland and across the country.
Diversity Matters
Infusing the care and education that Kennedy Krieger provides with cultural sensitivity and anti-racism requires a staff and board of directors that are diverse and dedicated to diversity. The Institute has an Equity, Diversity and Inclusion Council and Steering Committee, and its board has an Equity, Diversity and Inclusion Subcommittee.
Diversity matters because the outcomes are different— better—when you have a diverse set of individuals working together on something."
– Alicia Wilson
"It's exciting that the board is dedicating resources to embedding equity, diversity and inclusion as part of its governance of the Institute," says Alicia Wilson, a board member and co-chair of the subcommittee, and vice president for economic development at The Johns Hopkins University and Johns Hopkins Health System. "That positions equity, diversity and inclusion as a mission-critical part of the Institute."
Equity and inclusion in the healthcare setting "have huge implications not just for the rendering of care, but also for the accessibility of that care to our community, and to those who are the most vulnerable," she says. "And diversity matters because the outcomes are different—better—when you have a diverse set of individuals working together on something."
It's like diversifying a stock portfolio to maximize the outcome, she explains. "In healthcare, you diminish risk when you have different people looking at something from different angles—you maximize the possibility to have tremendous gains."
By prioritizing equity, diversity and inclusion throughout Kennedy Krieger, the influence these factors have on healthcare and education will be able to be measured, Wilson says. "As an academic medical institution, we're used to studying something, measuring it and analyzing the results. And when it comes to equity, diversity and inclusion, our ability to measure and hold ourselves accountable is important, because it means we'll be able to make measurable improvements."
Dr. Schlaggar firmly believes in the ability of Kennedy Krieger, through its staff members and trainees, to continue making strides in offering equitable care and education to its patients and students.
"What bind us together as a community at Kennedy Krieger are our shared values and belief system that every individual in our society, without exception, has the basic right to achieve their fullest potential," he says. "All that we do in care, education, service, advocacy and discovery is with that goal in mind."
*Kennedy Krieger Institute recognizes that the word "deaf" can refer to both a condition and a culture. Kennedy Krieger spells the word as "d/Deaf" to be inclusive of both hearing status and cultural identity.
Click here to learn more about the O-HEID and Kennedy Krieger's commitment to diversity, equity and inclusion.