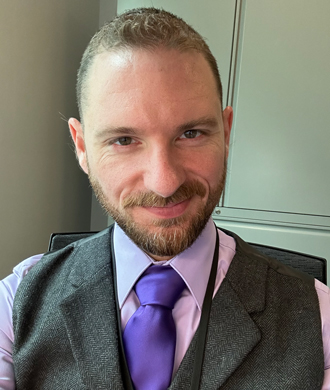 The MCDD is thrilled to welcome James Orman as the new People On the Go (POG) program coordinator. Orman earned a bachelor's degree in political science from Indiana University and possesses a passion for social justice and equity. He serves as the vice president of the Autism Society of Baltimore-Chesapeake and hosts a weekly group meeting for adults with autism spectrum disorder. Orman believes that all people have the right to access the resources and support necessary to help them fulfill their potential. He is dedicated to promoting understanding and awareness of disability rights within the broader community.
Tracy Wright, POG director of training and advocacy coordinator, has been appointed to the Board of Directors for Maryland Inclusive Housing (MIH). The mission of MIH is to help individuals with intellectual and developmental disabilities access and maintain inclusive, affordable and accessible housing by creating opportunities, identifying resources, connecting people and providing services.
POG organized and hosted their bi-annual conference, held on September 22, 2023, at the Baltimore Washington International (BWI) Marriot Hotel. This marked their first in-person conference since 2019, as COVID-19 restrictions had previously prevented such gatherings. This year's conference theme was, "Breaking Barriers: The Mission of an Advocate," and featured Maryland State Delegate Aaron Kaufman as the keynote speaker. In addition, remarks were given by Secretary Carol Beatty from Maryland Department of Disabilities, Deputy Secretary Bernard Simons from Maryland Developmental Disabilities Administration (DDA) and Bradley Schlaggar, MD, PhD, president and chief executive officer of Kennedy Krieger Institute.
The conference featured many presentations from a wide variety of speakers. Maryland State Delegate Jennifer White of Baltimore County's District 10 gave a presentation, "Your Voice, Your Power Through Advocacy." Mirian Ofonedu, PhD, LCSW-C, director of training for the MCDD, gave a presentation about sexual health, dating and relationships. Cody Drinkwater, POG public policy assistant, and Wright gave a presentation, "Expectations Matter: My Life, My Choice, My Plan." Cody Clark, a professional magician and autistic self-advocate, provided a live magic show. The event had more than150 attendees including individuals with disabilities, self-advocates, family members, direct support professionals and health care providers.