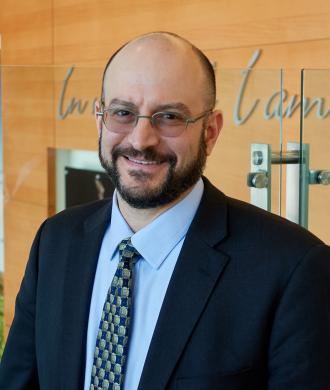 Hello, all,
I'm so proud to have joined Kennedy Krieger as its president and CEO. As a pediatric neurologist, physician and researcher, I've admired the Institute's work and reputation for many years. As a parent, I appreciate the interdisciplinary, patient-centered approach everyone here takes to ensuring patients receive the very best care.
That's why I'm so excited to share with you the stories in this issue of Potential!
You'll read about Landon, who competes in our adaptive sports program, and about Kailyn, who first came to Kennedy Krieger struggling to walk and talk. Kailyn's now an ardent spokesperson for individuals with disabilities.
Jeremiah has autism and just graduated from our high school. His story is near and dear to my heart, because my mom was a special educator for Chicago's public schools. Jeremiah's taking the culinary world by storm, proving that individuals with neurodiverse traits can fulfill their dreams and inspire others.
And how could you not be captivated by Lydia's smile? Lydia sustained a traumatic brain injury last fall, but she's working hard to regain mobility and never accepts the word "can't."
These kids and their families are the reason all of us at Kennedy Krieger come to work each day. We're honored to help them embrace life and defy limits, and we're grateful for the role you play in making it all possible. Enjoy the stories!
Bradley L. Schlaggar, MD, PhD
President and CEO
P.S. I welcome your comments, questions and suggestions—email me at: CEO@KennedyKrieger.org