Kathryn R.
Wagner
,
MD, PhD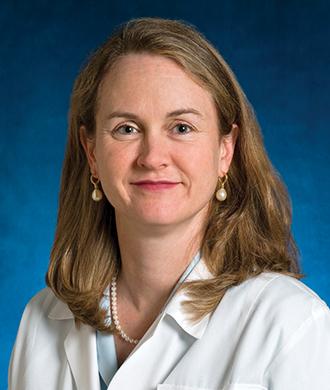 Director, Center for Genetic Muscle Disorders
Kennedy Krieger Institute
801 N. Broadway
Baltimore, MD 21205
United States
About
Dr. Kathryn Wagner is the director of the Center for Genetic Muscle Disorders at the Kennedy Krieger Institute and a Professor of Neurology and Neuroscience at the Johns Hopkins School of Medicine.
Education
Dr. Wagner obtained her undergraduate degree from Yale University, graduating summa cum laude with honors in biology. She participated in the NIH-funded medical scientist training program and obtained her medical and doctoral degrees at Johns Hopkins. Her thesis work in the laboratory of Richard Huganir, Ph.D., included the original cloning and characterization of the dystrophin-associated protein, dystrobrevin.
She completed her internship in internal medicine and residency in neurology at Johns Hopkins. She went on to complete a neuromuscular fellowship at Hopkins and a clinical neurogenetics fellowship with Kenneth Fischbeck, M.D., at the National Institutes of Health. With Dr. Fischbeck, she conducted the first clinical trial attempting to suppress nonsense mutations in Duchenne muscular dystrophy patients. In 2000, Dr. Wagner joined the faculty at Johns Hopkins, and in June 2009, joined the Kennedy Krieger Institute to allow her patients with muscular dystrophy to benefit from the institute's historical strengths in rehabilitation and neurogenetics.
Research
Dr. Wagner focuses her laboratory and clinical research on developing methods to promote muscle regeneration. A major emphasis has been on modulating myostatin, a potent regulator of muscle growth. Dr. Wagner and her colleagues have shown that myostatin inhibition improves several of the features of the dystrophic mdx mouse model and that loss of myostatin in humans is associated with increased muscle mass. Furthermore, Dr. Wagner's laboratory has shown that inhibition of myostatin stimulates muscle stem cells, dramatically improving muscle regeneration while reducing fibrosis.
Her work, as well as others in the field, has led to development of myostatin inhibitors by several pharmaceutical companies. Dr. Wagner was the principal investigator of a clinical trial of one such inhibitor of myostatin, MYO-029 developed by Wyeth, in adults with muscular dystrophy. Myostatin inhibition with novel pharmacologic agents is a current goal of Dr. Wagner's research for Duchenne and Facioscapulohumeral muscular dystrophy.
Research Studies
Related Links 
Elsevier Fingerprint Engine Profile for Kathryn R. Wagner
Research Publications
Estrellas KM, Chung L, Cheu LA, Sadtler K, Majumdar S, Mula J, Wolf MT, Elisseeff JH, Wagner KR. Biological scaffold-mediated delivery of myostatin inhibitor promotes a regenerative immune response in an animal model of Duchenne muscular dystrophy. J Biol Chem 2018, 293(40): 15594-15605. PMID 30139748.
Leung, DG, Wang X, Barker PB, Carrino JA, Wagner KR. Multivoxel proton magnetic resonance spectroscopy in facioscapulohumeral muscular dystrophy. Muscle Nerve 2018, 57(6): 958-963. PMID 29266323.
Chen JCJ, King OD, Zhang Y, Clayton NP, Spencer C, Wentworth BM, Emerson CP*, Wagner KR*. Morpholino-Mediated Knockdown of DUX4 Towards Facioscapulohumeral Muscular Dystrophy Therapeutics. Molecular Therapy 2016, 24(8):1405-11. PMID 27378237
Choi IY, Lim H, Estrellas K, Mula J, Cohen T, Zhang Y, Donnelly C, Richard JP, Kin Y, Kim H, Kazuki Y, Oshimura M, Rothstein J, Maragakis N, Wagner KR*, Lee G*. Concordant but varied phenotypes among patient-specific myoblasts of Duchenne muscular dystrophy revealed by human iPSC-based model. Cell Reports 2016,
Eichinger K, Heatwole C, Heininger S, Stinson N, Matichak Stock C, Grosmann C, Wagner KR, Tawil R, Statland JM, FSHD Clinical Trials Research Network (2016). Validity of the Six Minute Walk Test in Facioscapulohumeral Muscular Dystrophy. Muscle Nerve.
Tawil R, Mah JK, Baker S, Wagner KR, Ryan MM, Sydney Workshop Participants. (2016). Clinical practice considerations in facioscapulohumeral muscular dystrophy Sydney, Australia, 21 September 2015. Neuromuscul Disord. 26(7), 462-71.
Chen JC, King OD, Zhang Y, Clayton NP, Spencer C, Wentworth BM, Emerson CP Jr, Wagner KR (2016). Morpholino-mediated Knockdown of DUX4 Toward Facioscapulohumeral Muscular Dystrophy Therapeutics. Mol Ther. , .