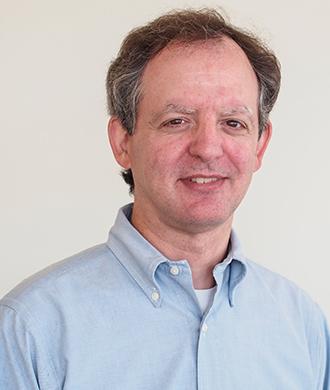 Research Scientist, Kennedy Krieger Institute
Kennedy Krieger Institute
707 N. Broadway
Baltimore, MD 21205
United States
About
Dr. Jonathan Pevsner is a professor and research scientist at the Kennedy Krieger Institute. He also holds a primary faculty appointment in the Department of Psychiatry and Behavioral Sciences at the Johns Hopkins University School of Medicine.
Education
Dr. Pevsner received his bachelor's degree in psychology from Haverford College and his doctoral degree in pharmacology and molecular sciences from the Johns Hopkins School of Medicine. He pursued post-doctoral training at the Stanford University School of Medicine, and joined the faculty of Kennedy Krieger Institute in 1995.
Research
The Pevsner Lab studies the molecular basis of childhood and adult brain disorders. Studies include the following diseases, applying various tools of bioinformatics genomics.
Sturge-Weber syndrome: In 2013, the Pevsner Lab reported a somatic mutation that causes SWS (a rare neurocutaneous disorder) and port-wine birthmarks (affected 1:300 people). They achieved this using whole genome sequencing. They are currently using biochemical approaches to understand the consequence of this mutation which occurs in GNAQ encoding a G protein alpha subunit.
Bipolar disorder: Using genomics approaches to characterize somatic and germline mutations as well as transcriptional changes.
Autism spectrum disorder: Analyzing genomic data, particularly in children with severe autism and behavioral conditions such as self-injurious behavior.
Schizophrenia (SZ): Characterizing transcriptional changes in SZ by RNA-seq.
Dr. Pevsner is author of a textbook, Bioinformatics and Functional Genomics (John Wiley & Sons, 3rd edition, 2015). He teaches courses and workshops in bioinformatics and genomics.
The Pevsner Lab is involved in bioinformatics research. Bioinformatics is the interface between molecular biology and computers. The lab has developed the following programs:
[1] "Database Referencing of Array Genes ONline" (DRAGON), a web-accessible database that helps researchers analyze the data obtained from microarrays or other gene expression experiments. Once a microarray experiment indicates the expression levels of tens of thousands of genes, researchers must identify the biological characteristics associated with all of those genes and their encoded proteins. Looking online for information about each gene individually is time-consuming and impractical. DRAGON compiles information from a variety of public databases. It then rapidly supplies information pertaining to a range of the biological characteristics of the genes in any microarray data set.
[2] "Standardization and Normalization of Microarray Data" (SNOMAD), a set of web-accessible tools for the analysis of genes that are significantly regulated in microarray data sets. SNOMAD includes non-linear transformations to correct for bias and variance in array data.
[3] "Statistical Analysis and Visualization of Annotated Gene Expression data" (SAVAGE), a data visualization tool that uses principal components analysis to graphically display functionally annotated gene expression data sets.
Related Links
Elsevier Fingerprint Engine Profile for Jonathan Pevsner
Research Publications
Freed D, Pevsner J (2016). The Contribution of Mosaic Variants to Autism Spectrum Disorder. PLoS Genet. 12(9), e1006245.
Shirley MD, Frelin L, López JS, Jedlicka A, Dziedzic A, Frank-Crawford MA, Silverman W, Hagopian L, Pevsner J (2016). Copy Number Variants Associated with 14 Cases of Self-Injurious Behavior. PLoS One. 11(3), e0149646.
Shirley MD, Tang H, Gallione CJ, Baugher JD, Frelin LP, Cohen B, North PE, Marchuk DA, Comi AM, Pevsner J (2013). Sturge-Weber syndrome and port-wine stains caused by somatic mutation in GNAQ. N Engl J Med. 368(21), 1971-9.
Baugher JD, Baugher BD, Shirley MD, Pevsner J (2013). Sensitive and specific detection of mosaic chromosomal abnormalities using the Parent-of-Origin-based Detection (POD) method. BMC Genomics. 14, 367.
Shirley MD, Baugher JD, Stevens EL, Tang Z, Gerry N, Beiswanger CM, Berlin DS, Pevsner J(2012). Chromosomal variation in lymphoblastoid cell lines. Hum Mutat. 33(7), 1075-86.
Stevens EL, Baugher JD, Shirley MD, Frelin LP, Pevsner J (2012). Unexpected relationships and inbreeding in HapMap phase III populations. PLoS One. 7(11), e49575.
Stevens EL, Heckenberg G, Roberson ED, Baugher JD, Downey TJ, Pevsner J (2011). Inference of relationships in population data using identity-by-descent and identity-by-state. PLoS Genet. 7(9), e1002287.
Roberson ED, Wohler ES, Hoover-Fong JE, Lisi E, Stevens EL, Thomas GH, Leonard J, Hamosh A, Pevsner J (2011). Genomic analysis of partial 21q monosomies with variable phenotypes. Eur J Hum Genet. 19(2), 235-8.
Miller ND, Nance MA, Wohler ES, Hoover-Fong JE, Lisi E, Thomas GH, Pevsner J (2009). Molecular (SNP) analyses of overlapping hemizygous deletions of 10q25.3 to 10qter in four patients: evidence for HMX2 and HMX3 as candidate genes in hearing and vestibular function. Am J Med Genet A. 149A(4), 669-80.
Pevsner J (2009). Analysis of genomic DNA with the UCSC genome browser. Methods Mol Biol. 537, 277-301.