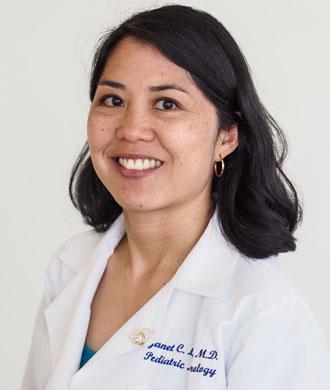 Neurologist, Department of Neurology and Developmental Medicine
Kennedy Krieger Institute
801 N. Broadway
Baltimore, MD 21205
United States
About
Dr. Janet Lam is a neurologist in the Department of Neurology and Developmental Medicine at Kennedy Krieger Institute and an assistant professor in the Department of Neurology at The Johns Hopkins University School of Medicine.
Education
Dr. Lam received her Bachelor of Science degree in biology and psychology at Allegheny College. She then earned a Master of Health Science degree at the Johns Hopkins Bloomberg School of Public Health. Afterwards, she pursued her medical degree at the University of Missouri-Columbia followed by a general pediatrics residency at the University of Illinois at Chicago. She completed her pediatric neurology fellowship at the Children's National Medical Center and a fellowship in sleep medicine at the University of Maryland. At Kennedy Krieger, Dr. Lam sees patients in the general neurology clinic, sleep clinic, and neuro-rehabilitation concussion clinic. She is the director of the Sleep Disorders Clinic and Laboratory.
Dr. Lam is board-certified through the American Board of Psychiatry and Neurology, with special qualifications in child neurology. She is a member of the American Academy of Neurology and the American Academy of Sleep Medicine.
Research
Dr. Lam's research focuses on the impact of napping on cognition in preschool-aged children. In early childhood, sleep transitions from a biphasic pattern (ie. daytime naps and night time sleep) to consolidated sleep at night. Dr. Lam is interested in identifying evidence-based guidelines for when naps are critical for learning potential and cognitive development. She has studied typically developing children in day care centers and identified night time sleep as more critical for the development of cognitive performance and nap cessation may be a developmental milestone of brain maturation. She also has an interest in understanding the relationship between sleep and other disorders, such as ADHD and concussion.
Related Links
Research Publications
Schneider HE, Lam JC, Mahone EM (2016). Sleep disturbance and neuropsychological function in young children with ADHD. Child Neuropsychol. 22(4), 493-506.
Lam JC, Koriakin TA, Scharf SM, Mason TB, Mahone EM (2015). Does Increased Consolidated Nighttime Sleep Facilitate Attentional Control? A Pilot Study of Nap Restriction in Preschoolers. J Atten Disord. , .
Lam JC, Mahone EM, Mason T, Scharf SM (2011). The effects of napping on cognitive function in preschoolers. J Dev Behav Pediatr. 32(2), 90-7.
Lam JC, Mahone EM, Mason TB, Scharf SM (2011). Defining the roles of actigraphy and parent logs for assessing sleep variables in preschool children. Behav Sleep Med. 9(3), 184-93.
Lam JC, Mason TB (2007). Treatment of sleep disorders in children. Curr Treat Options Neurol. 9(6), 404-13.