What's Equity Got to Do With It?
This past year, the Ethics Program hosted representatives of People On the Go Maryland, who talked about the implications of the recently passed Ken Capone Equal Employment Act. The group, led by Ken Capone, is optimistic that this law, which eliminates sheltered workshops, will create increased opportunities for individuals with disabilities to be gainfully employed. The previous law, passed in 1938, led to individuals being paid far below market wage, and it did not support their transition to standard employment. In effect, the 1938 law created a separate and unequal situation that was not equitable.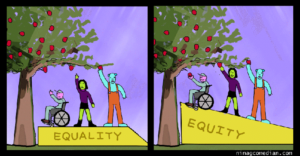 Historically, our Ethics Program has considered the four main bioethical principles—autonomy, doing good (beneficence), avoiding harm (non-maleficence) and justice—in its deliberations and consultations. The new law highlights the need for us to also consider the concept of equity in our consultations. Equity means equal access to the resources necessary to enable opportunity and eliminate disparities in areas such as economics, education, health and healthcare, neighborhood and the built environment, society and community, and work.
Equity as an ethical construct has been around since the time of Aristotle. However, it has been implied, rather than explicit, under the principle of justice. It is invoked most often in discussions about access to healthcare. Here at Kennedy Krieger Institute, where our central focus is to create ways for all children to reach their full potential, we recognize that equity deserves a leading role. Therefore, we're now including the concept of equity, along with justice, as one of our main bioethical principles when discussing ethical challenges faced by patients and staff members.
In his presentation, Capone described potential ethical challenges raised by the new law: Now that most workshops will close, how will we ensure that individuals have opportunities? And how will individuals be able to make informed choices about daily activities? As one solution, Kennedy Krieger has developed a neurodiversity initiative, in which we've committed ourselves to creating more career opportunities for staff members with a variety of disabilities. The quest for equity will continue, and we all have a part to play.