When Patients Base Requests for Providers on Non-Clinical Factors
Various complexities—some with legal ramifications—arise when patients express provider preferences based on race, religion or other non-clinical factors. At a February 21 standing-room-only panel discussion sponsored by the Kennedy Krieger Institute Ethics Program, experts in diversity, ethics and medical law discussed these complexities before an audience of Kennedy Krieger employees.
Often, managing patient preferences necessitates legal as well as organizational components, explained Eloiza Domingo-Snyder, Johns Hopkins Medicine's deputy chief diversity officer and senior director of diversity and inclusion, at a brief presentation that started out the panel discussion. Domingo-Snyder provided a number of examples illustrating the challenges faced by medical institutions when patients express such preferences. Sometimes, accommodations may involve re-staffing for particular patients, or overlooking those preferences when risk or safety is involved, she said. Neither preferences nor accommodations are typically noted in the medical record, she added, so they cannot be tracked in a systematized way.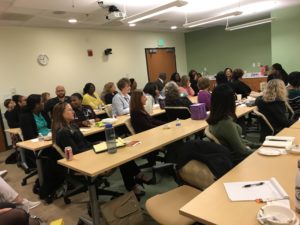 When choosing a provider, a patient may consider several variables related to establishing a level of comfort with the provider, said panelist Dr. Jacqueline Stone, co-director of the Center for Diversity in Public Health Leadership Training at Kennedy Krieger. Stone spoke about research that has been done on patient-provider agreement in the context of patient preferences. It's necessary for healthcare workers to distinguish between provider preferences related to increased comfort level, and those that may reflect racist ideology, she explained. The distinction can be difficult to make.
In a number of instances around the country, healthcare employees have been found to be targets of discrimination, based on patients' non-clinically-based requests for certain providers, added panelist Maureen van Stone, associate director of the Maryland Center for Developmental Disabilities at Kennedy Krieger, and founding director of Project HEAL. Van Stone provided a legal perspective for the conversation, highlighting several examples of discrimination. One of the key factors in legal cases, she noted, has been the level and quality of the training provided to employees regarding how to manage the dilemmas they face in this area.
After the panel presentation, audience members contributed to the discussion through comments and questions. Dr. Gary Goldstein, president and CEO of Kennedy Krieger, stated definitively that Kennedy Krieger is an inclusive institution, and discussions such as the one described here are important. Participants requested the conversation continue throughout the Institute, so that employees might develop a shared understanding and shared policies—a request supported by Dr. Goldstein.