The Ethics of Telemedicine
With Kennedy Krieger Institute now using telemedicine to serve patients in rural areas, Dr. Deepa Menon, MBBS, recently gave a presentation to Kennedy Krieger's Ethics Program on the ethical issues telemedicine can raise.
Telemedicine involves the electronic exchange of information between sites for the purposes of providing or supporting clinical patient care remotely. This may include patient counseling, case management or the supervision of trainees at a remote site. With telemedicine, a provider-patient relationship is established, with the provider accountable for the same legal and ethical obligations as in face-to-face care.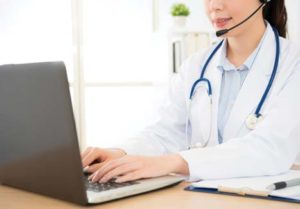 Currently, Kennedy Krieger provides evaluations and follow-up consultations via telemedicine at Atlantic General Hospital, on Maryland's Eastern Shore, and Garrett Regional Medical Center, in western Maryland. Patients check in at one of these remote locations, and a Kennedy Krieger-trained nurse accompanies each patient during the evaluation, which is conducted by Kennedy Krieger physicians in Baltimore. An appointment may result in a diagnosis and referrals to further services. The hope is that this will improve the care of children with special healthcare needs in their home communities, thereby improving health outcomes and quality of life.
Certain unique ethical issues arise with telemedicine. Some are specific to the technology used. For example, special procedures must be implemented to make sure informed consent includes the range and limitations of telemedicine. The host institution must ensure patients are able to adequately use the required technology, and providers can use it with competence. The electronic systems must be fully HIPAA-compliant and secure from hacking and other cybersecurity threats.
Guidelines must be in place regarding when telemedicine is appropriate, and what should trigger a provider to transfer a patient to direct care. There must be awareness that nonverbal cues may be missed and that certain interactions (e.g., delivering bad news) are better done in person. There must be careful coordination with the referring physician or primary care provider to provide complete care and avoid abandonment. Yet despite these risks, it is clear that telemedicine provides the important benefit of having access to care in situations where it would otherwise be unavailable.