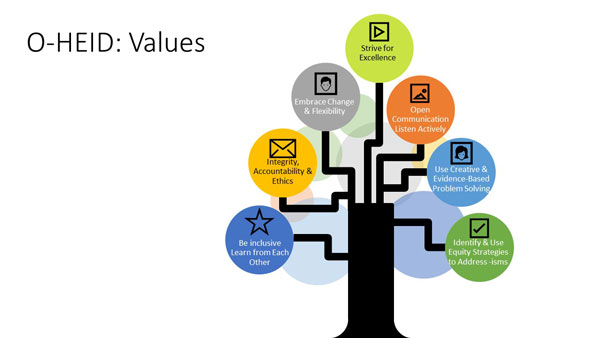 Our Mission
The
mission
of the O-HEID is to provide and create evidence and equity-based resources for those who work, train, and receive services at Kennedy Krieger that promote diversity and inclusion. O-HEID carries out this mission by:
Using resources and services to improve health and well-being by supporting, valuing and prioritizing diversity and inclusion.
Using evidence informed equity and anti-racism strategies to improve opportunities for mentorship, education, health disparities research, and career advancement and retention of those who work at Kennedy Krieger.
Collaborating with Johns Hopkins University, city, state, and national organizations to reduce disparities and promote diversity, inclusion, and leadership in the maternal and child health, mental health, and developmental disabilities fields.
Our Vision
The vision of the O-HEID is to promote the health and well-being of all those who work or receive training or services at Kennedy Krieger, using evidence- and equity-based, culturally relevant approaches that assure diversity and inclusion.