Developed by the Laboratory of Brain Anatomical MRI, these tools allow users to process large multimodal datasets between subjects.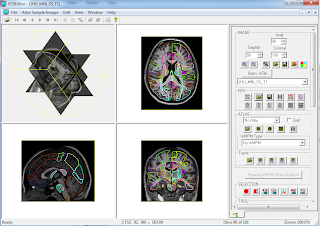 MRI Studio: This software package combines DTI analysis using DTI Studio, inter-subject co-registration with LDDMM using DiffeoMap, and drawing or editing regions of interest with ROIEditor.

Platform: Windows
Supported Data Types: GE, PHilips, Siemens, Toshiba, DICOM, raw, Analyze, NIfTI, NRRD
Note: When downloading and installing the different modules of MRI Studio, each software .exe is a .zip folder that contains the software application and an "Images" folder with the atlas templates. These atlas templates include the "Eve Atlas" in the folder "JHU_MNI_SS," featuring a single-subject female brain in Montreal Neurological Institute (MNI) coordinates, with contrasts from diffusion weighted imaging, T1-weighted imaging, T2-weighted imaging, the magnitude image of a gradient-recalled echo, and a quantitative susceptibility map. 
This "JHU_MNI_SS" folder also includes region of interest maps with the ".roihdr" extension, namely the "BPM" ("Brain Parcellation Map," with regions of interest drawn with reference to the Eve Atlas), the "EveDGMPM" ("Eve Deep Gray Matter Parcellation Map," with deep gray matter ROIs drawn using QSM contrast), and the "EvePM" (an atlas containing deep gray matter regions from the EveDGMPM and white matter ROIs from the BPM). The regions of interest themselves are labeled in the accompanying text document "Lookup Tables." 
If you are looking for information on the Eve atlas for Quantitative Susceptibility Mapping, please refer to our paper: Human brain atlas for automated region of interest selection in quantitative susceptibility mapping: Application to determine iron content in deep gray matter structures. Instructions on how to use the EveGreMag and EveRefQSM templates can be downloaded at the bottom of this webpage, from this link (Google Docs .pdf), or from this link (.pdf).