By Principal Investigator Rebecca Landa, PhD, CCC-SLP and Christine Reiner Hess, PhD
About 13% of children display a late onset of spoken language. During the early period of word learning, children with a language delay and late talkers show underdeveloped connections of meaning across the words in their vocabulary. That is, toddlers with slow language onset are not learning the meaning of words as quickly as children with typical language development. Research has shown that children with early language delays are at increased risk for having a language impairment. In addition, early language is the single best predictor of school readiness and academic achievement.
The good news is that early language enrichment or intervention can boost language and social development, even in children with neurotypical development. During infancy, the brain is developing rapidly and is influenced by the input that children receive during interactions with objects and people. Parents can learn simple strategies to help babies learn more while playing with objects and interacting with people. Offering babies this type of enrichment before they show the full signs of a communication disorder could have long-lasting, positive effects on development.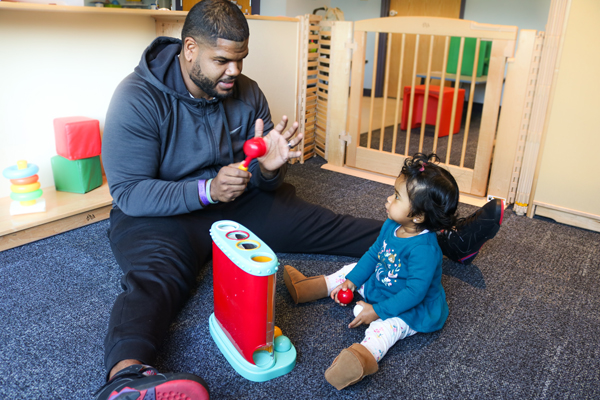 With grant funding from the National Institutes of Health (NIH), Dr. Landa and her research team are investigating Infant Achievements, an innovative, short-term, pre-emptive social communication intervention and enrichment program developed by Dr. Landa for 9-12 month olds. Babies need not have a disorder or diagnosed delay to be eligible to participate. Babies with early signs of developmental delay may also be eligible to participate.
By intervening during early development and shaping a child's communication system while it's being built, we hope to interrupt or reduce an impending delay. In this randomized controlled trial, families are randomly assigned to one of two enrichment groups. In both groups, families are visited by a developmental specialist either once or twice weekly in their homes (or at our center, if families prefer). In both groups, families receive developmental information as well as toys (which they can keep). Through this study, we will examine how parents are using developmental strategies through play to help foster their babies' emerging communication skills, and in turn, how babies progress and make gains in their communication skills when parents use certain interaction strategies with them.

Families with a child between 9 and 12 months old who are interested in the study (regardless of whether they have concerns about their child) and who live within 40 miles of the Center for Autism and Related Disorders (CARD) may receive a free developmental evaluation of their child at our center.
Children who show a low frequency of certain social or communication behaviors will be invited to participate in the research enrichment study. Anyone interested in learning more about or participating in the Infant Achievements study can contact the Research and Education for All Children (REACH) Child Development Center by emailing REACH@KennedyKrieger.org or calling 877-850-3372.
The protocol number for this study is IRB00065698.