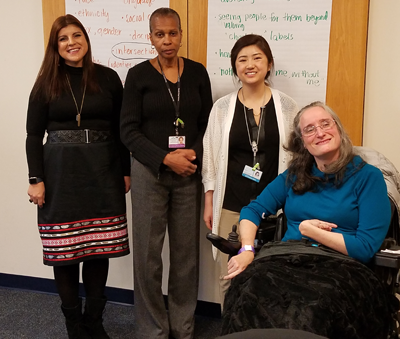 A January 29 panel hosted by the Maryland Center for Developmental Disabilities featured Tami Jollie-Trottier, PhD, a member of the Turtle Mountain Band of Chippewa Indians and a North Dakota-based clinical psychologist specializing in indigenous behavioral health and healing. Dr. Jollie-Trottier led a discussion with MCDD faculty members, staff members and community advisors about cultural competency, diversity and inclusion, and was joined by several other speakers, including Jackie Stone, PhD, Amanda Lay and Jennifer Chen.
Dr. Stone has worked with MCDD as both director of training and director of information dissemination, and has been at Kennedy Krieger Institute for more than 25 years in various leadership roles. As co-director of the Center for Diversity in Public Health Leadership Training, she and her colleagues have been working for nearly five years with Native American, African-American and Hispanic trainees from various states.
Amanda Lay has a bachelor's degree in general communications from University of Maryland University College, is a self-advocate, and is a member of the Maryland Developmental Disabilities Council. She has served on the President's Committee on Employment of People with Disabilities and as an intern in the office of the executive director for United Cerebral Palsy.
Jennifer Chen is MCDD's diversity fellow, a position funded by the Administration for Community Living to support work this year on cultural competency. Her work focuses on efforts supporting People On the Go Maryland by assessing the organization's diversity and inclusion, and by developing plans to increase diversity within the organization's ranks.