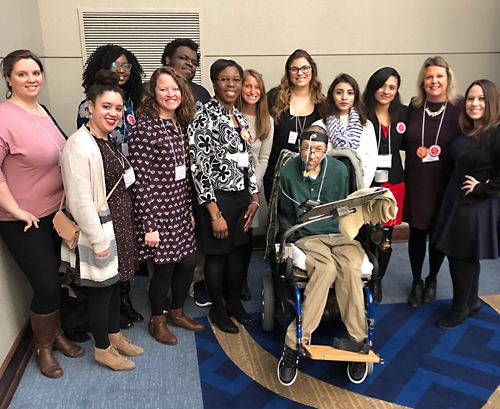 The Maryland Center for Developmental Disabilities (MCDD), the Center for Diversity in Public Health Leadership Training, the Maternal and Child Health Leadership Education in Neurodevelopmental and Other Related Disabilities (LEND) Program, and People On the Go Maryland (POG) partnered to give more than 30 trainees from diverse backgrounds an experience in advocating for public policies that support people with disabilities. The daylong advocacy event took place on Developmental Disabilities (DD) Day at the Maryland state legislature.
Trainees heard from legislators, policymakers and community members about issues important to the community of individuals with disabilities. Each trainee had the opportunity to meet as a group with a state delegate and/or senator to educate them about the current legislative issues and future needs of the community. Trainees also participated in a lunch-and-learn session with representatives from POG and the Maryland Department of Disabilities, including Deputy Secretary Christian Miele.
Advocacy efforts focused on the following legislative bills:
Minimum Wage and Developmental Disability Services (House Bill 166/Senate Bill 280), the "Fight for $15," which phases in an increase of the state minimum wage to $15 an hour by 2023. The bill includes a mandate for the governor to include in the budget a compensation rate increase for services for the community of individuals with developmental disabilities each year the minimum wage increases. This increase is crucial to ensuring that direct-support professionals are appropriately compensated for the services they provide to people with intellectual and developmental disabilities who live in the community. Subsequent to DD Day, the Senate Finance Committee voted to increase the compensation rates adopted by the House for providing developmental disability services.


 

Maryland Hospitals—Patient's Bill of Rights (House Bill 0145/Senate Bill 0301), which requires that a consistent set of patients' rights be provided to each patient in writing, in a language they understand, and posted in highly visible locations.


 

Nonpublic Elementary and Secondary Schools—Discrimination—Prohibition (House Bill 0295/Senate Bill 0848), which prohibits nonpublic elementary or secondary schools receiving state funds from discriminating against any student or prospective student based on race, color, religion, sex, age, national origin, marital status, sexual orientation, gender identity or disability.