Recognizing Employee Diversity and Capitalizing on Performance
Authors: Maureen van Stone, Esq., MS, & Tracy Waller, Esq., MPH
What is neurodiversity?
"Neurodiversity describes the idea that people experience and interact with the world around them in many ways; there is no one 'right' way of thinking, learning, and behaving, and differences are not viewed as deficits."
The term refers to the diversity of all people, but it is most used in the context of individuals with autism, as well as attention-deficit/hyperactivity disorder (ADHD), dyslexia, dyspraxia, dyscalculia, or Tourette syndrome. Collectively, these and other individuals with neurological differences are often referred to as neurodivergent individuals.
Unemployment and neurodiversity
Unemployment for neurodivergent adults is at least 30-40%, about three times the rate for people with a disability, and eight times the rate for people without a disability. Exact rates are unknown because of the limited tracking resources and the wide range of neurodiversity.
Employment and neurodiversity on the macro level
"Neurodiversity touches one in eight people around the world." With an increasing number of people identifying as neurodiverse, there is an increase in the number of neurodivergent job seekers.
The neurodiversity movement emerged during the 1990s, aiming to increase acceptance and inclusion of all people and to embrace neurological differences.
Large companies have begun to recognize the value of hiring neurodivergent employees. In 2017, six founding companies: Microsoft, DXC Technology, EY, Ford, JPMorgan Chase and SAP, began the Neurodiversity @ Work Employer Roundtable. The companies joined with the nonprofit Disability:IN to launch a career portal dedicated to neurodivergent job seekers, the Neurodiversity Career Connector (NDCC). The Roundtable (now nearly 50 companies) includes companies such as Google, Hewlett-Packard (HP), Chevron, Wells Fargo, Qualcomm, Salesforce, VMware and Warner Brothers.
What is autism?
Also known as autism spectrum disorder (ASD), a "spectrum" disorder, meaning that it affects everyone differently, so no single descriptor is accurate for all people with ASD. It refers to a broad range of conditions characterized by challenges with social skills, repetitive behaviors, speech and nonverbal communication, and information processing. Autism is not considered a learning disability, but it does affect learning. Some people with autism may also have accompanying learning disabilities.
Challenges faced by people with ASD
ASD affects the way a person perceives and communicates with the world, often resulting in challenges with social interactions and information processing. In the workplace, these challenges can manifest themselves in different ways. Eager-to-work adults are often left out of the workforce or forced into lower skill jobs for a variety of reasons, including non-inclusive hiring and retention practices and lack of employer education and training.
Employer Benefits
Hiring Individuals With ASD
There is no typical employee with autism, so it is important to get to know your employee with autism on an individual basis.
Focus: People with ASD are known for being reliable and honest, and often prefer tasks or work over office politics. They often have a tolerance for repetition and routine, have low absenteeism, and are often skilled at uni-tasking (i.e., doing a single thing at a time).
Skills and problem solving: Many people with ASD have a strong attention to detail, accuracy, and memory for details; they have strong logic and analytic skills, and they have an ability to think outside the box and discover original solutions.
Hiring Individuals With ADHD
Can draw upon their strength of hyper-focus, quick starters, good in crisis, creative.
Hiring Individuals With Dyslexia
Often possess a strong ability to perceive, analyze, and manipulate visual and spatial information.
Overall Employee Benefits
Supports that help neurodivergent individuals in their adjustment to the workplace often provide clarity to all employees (such as establishing long-term and short-term goals for employees), including communication. Co-workers and supervisors can learn to communicate more effectively and better understand social dynamics with each other, which also leads to lower turnover, higher productivity and better overall employee engagement.
Range of Behaviors
There is no typical neurodivergent employee or employee with ASD, so it is important to get to know your employee on an individual basis; however, there is a range of behaviors employers might observe regarding their employees: Communication, Organization and Sensory & Motor Regulation.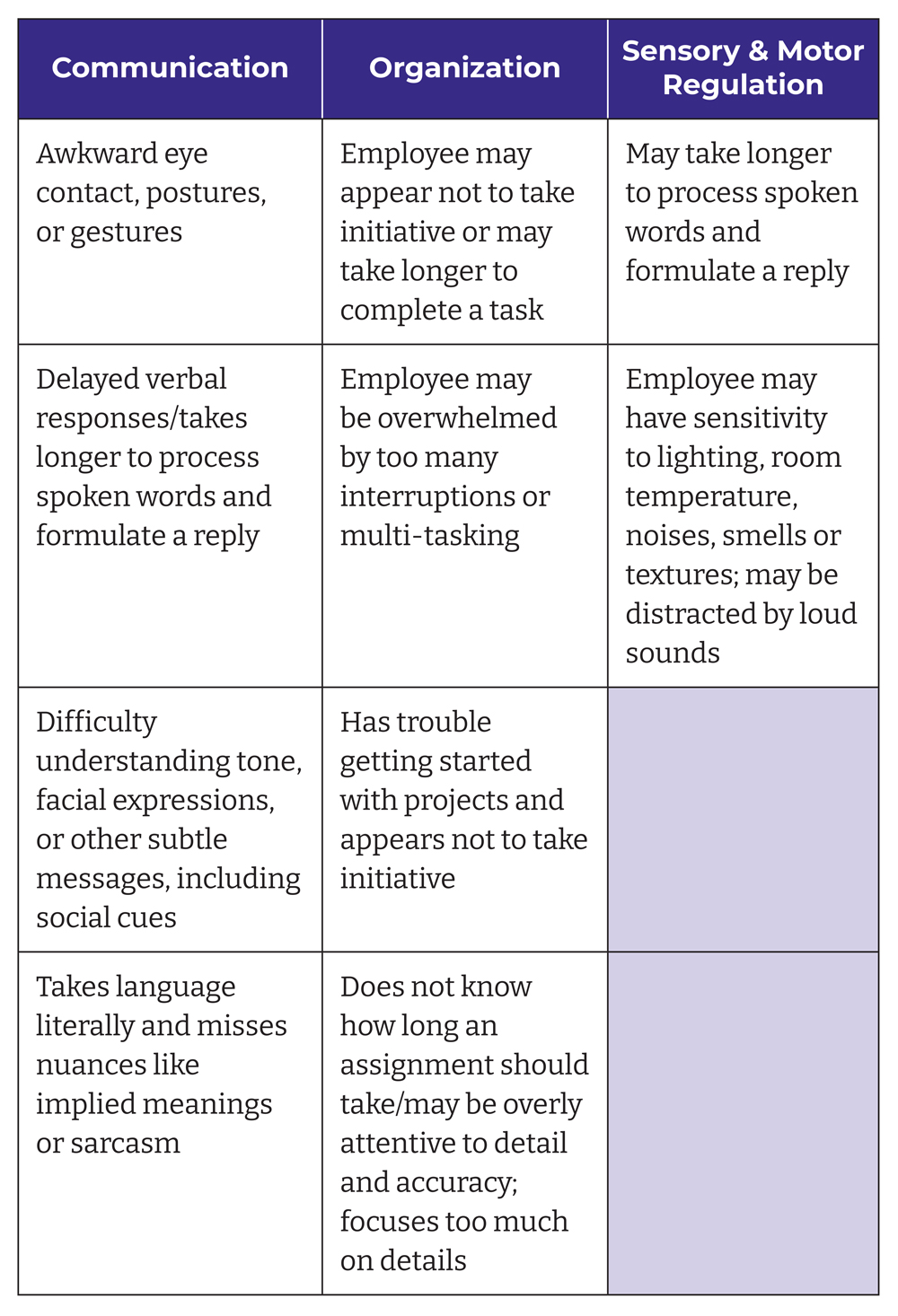 Strategies for Success
Employers can help their employees succeed by providing extra training, support in prioritizing, knowing who to ask for help, assigning a mentor, giving clear directions, providing instructions in writing and making social events optional.
Provide clear expectations: Provide details such as deadlines (e.g., time frames, schedules) and outcomes (i.e., what it looks like, formatting).
Receive confirmation: Do not make assumptions about what your employee does or does not understand. Ensure that directions are understood.
Give clear instructions to your employee: On how you want them to communicate with you (e.g., email, face to-face), and how often. Encourage alternative forms of communication, such as texting.
Be direct: Say exactly what you mean and identify exactly what you want. The more detail you can provide, the better your employee will understand.
Be literal: Avoid any indirect pattern of speech, including clichés, implied meanings, and idioms.
Avoid non-verbal communication: Use primarily your words to communicate. Do not rely on non-verbal communication to get your message across.
Legal Protections
The Rehabilitation Act of 1973 bans discrimination against qualified individuals with disabilities by federal agencies, federal contractors and those receiving federal financial assistance.
Section 503 of the Rehabilitation Act of 1973 prohibits discrimination by covered federal contractors and subcontractors on the basis of disabilities for contracts in excess of $10,000.
The Americans with Disabilities Act (ADA) in 1990 expanded this anti-discrimination mandate to all areas of life, including private employment, transportation, public entities, and public accommodations. Employers with more than fifteen employees are covered by the ADA.
In 2008, Congress passed the ADA Amendments Act (ADAAA) in which the U.S. Equal Employment Opportunity Commission stated that ASD is "almost always covered" as a disability because it "substantially limits brain function."
Those with 50 or more employees and a contract in excess of $50,000 are required to develop and maintain an affirmative action plan (subject to several conditions).
Interpretation of the ADA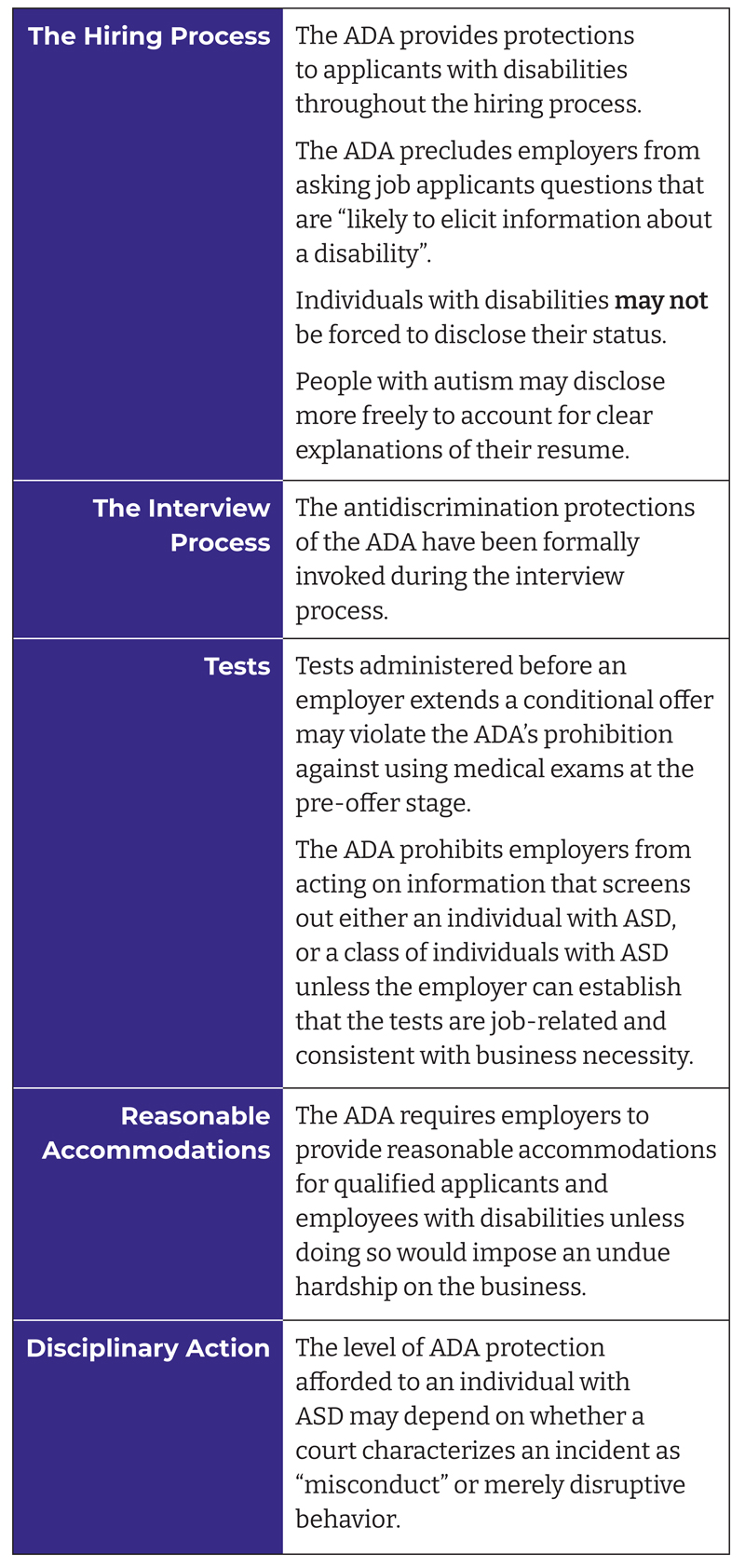 Confidentiality precludes employers from sharing information with co-workers; however, employers are encouraged to avoid confidentiality issues by providing targeted training that promotes awareness, tolerance and needs of employees of disabilities, including autism for example; diversity and inclusion training, and disability awareness training.
Reasonable Accommodations: Vary by position and include any modification to the job application process or work environment that enables the employee to perform the essential functions of his or her position. These may include accommodations in interviews, social skills, stress management, sensory, atypical body movements or other types of accommodations.
Considerations
In your role, what kinds of interactions might you have with an individual with ASD (e.g., interviewer, co-worker or manager)?
What strengths might an individual with neurodiversity bring?
What areas do you anticipate might be challenging?
How can you help to ensure success?
What would you need from that individual?
Sources
The Organization for Autism Research collaborated with the District of Columbia Public Schools to publish Understanding Autism: An Employer's Guide to address the need for employers and supervisors to have a working understanding of autism and better prepare for their new employees.
The Rochester Institute of Technology (RIT) Office of Career Services and Cooperative Education and the RIT Spectrum Support Program, Hiring on the Spectrum: Employer Guide to Autism Spectrum Disorders (ASD.
Kenyon, Lucy. "How to manage autism in the workplace." 31 Aug. 2015. PersonnelToday.com. Available at: https://www.personneltoday.com/hr/manage-autism-workplace/?msclkid=0122991baf8411ecae87d17767bd7fbb