Information for Applicants for the Child Neurologist Career Development Program (CNCDP-K12)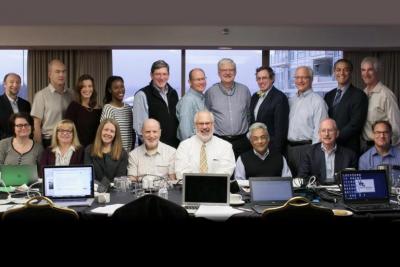 Guidelines for Letter of Intent:
Submit all LOI's to CNCDP-K12@kennedykrieger.org.
Due date is June 15th, 2020. The Letter of Intent must be a two page letter of intent from the applicant and should include a one page statement of intent to apply (including the title of the proposal, date of completion of clinical training, name of the institution and mentor for the CNCDP project, and brief career development plan), and a one page preliminary Specific Aims for the proposed project.
Please note that resubmissions will not be considered for full applications unless they have been appropriately modified in response to previous critique. For resubmissions, you have to provide an extra page of explanation on how this submission differs from the previous application.
NIH format Bio sketches from the candidate and mentor are also required. All documents (two page letter of intent and bio-sketches) should be merged into a single PDF and submitted as one document.  Following review of the LOIs by the National Advisory Executive Committee, successful candidates will be invited to submit a Full Application. 
All full applications have to be submitted online via the APPLICATION PAGE.
For any questions, please email CNCDP-K12@kennedykrieger.org
Goal of the Program: The overarching goal of the program is to train talented young child neurologists with a strong interest in research how to become productive in their chosen field and publish outstanding scientific papers that will make a national and international impact on the field. The scholars will learn how to become independent scientifically and will also become careful researchers  who will  follow the basic principles needed to produce science that is valid, ethical, transparent, and reproducible. They will also learn how to compete successfully to achieve funding by NIH and other agencies so that they can support a long term, independent  research career during which they can become outstanding mentors themselves.
Eligibility for the CNCDP-K12 Award: This career development award is intended for pediatric neurologists who seek a three year period of intensive, clinically relevant basic and/or patient-oriented research after completion of clinical training. Candidates must be less than 5 years out from the completion of clinical training at the time of application but very highly qualified candidates who are further out will be considered on a case by case basis.
Candidates must have an appointment as an Instructor or Assistant Professor in an academically oriented department of Neurology and/or Pediatric Neurology in the United States which is capable of providing mentorship by outstanding research mentors in  medical  educational and research institutions with well-established research infrastructure.  Unlike the NSADA  (Neurological  Sciences  Academic Development Award)  which this CNCDP-K12 replaces, training in the CNCDP program can take place at any qualified institution, rather than at a small number of pre-approved institutions. Another difference from the NSADA award is that there is no limit on the number of candidates who can apply from a single institution.
The CNCDP-K12  program  will recruit applications from eligible candidates and institutions, and selected scholars will proceed with their career development and research plan at their home institution, with a local mentor or mentoring team. Candidates will also have the option of moving to another institution for the period of research training, and this relationship must be explained both in the candidate's research plan and the mentor's section. An active program for recruitment of minority applicants has been developed.
Scholars who are accepted into the program will have the opportunity to participate in an active mentoring program aimed at fostering their scientific progress. They will  have the benefit of regular in person and remote mentoring sessions with their specific NAC advisor.  All new scholars will have an in person site visit by a member of the NAC to the scholar's institution within the first year of the award. The visitor will meet with the scholar and local mentors, visit laboratories and other research facilities and  meet with the department chair to confirm in writing that 75% time will be available for research throughout the 3 years of the program.
Scholars will also attend mandatory annual CNCDP-K12 retreats to present their research before an audience of fellow scholars, mentors, members of the National Advisory Committee (NAC) and NIH staff. These sessions will also include keynote talks by successful clinician-scientists, as well as didactic talks on research ethics, diversity in the child neurology research community and rigor, transparency and bio-statistics and experimental design. Scholars in the remaining positions in the NSADA program will join the CNCDP-K12 scholars in the yearly retreats and other joint activities.
Budget: The award will provide  salary up to up to $85,000/year for 75% effort  per year plus fringe benefits and $38,000 per year for research related expenses including travel for a total of 3 years. The indirect rate is 8%. Funds are provided through a subcontract with the CNCDP-K12 program office.
Child Neurologists wishing to apply for the award beginning July 1st, 2021 should submit a non-binding letter of intent by June 15th, 2020 stating their intent to apply, date of completion of clinical training, the name of the institution and mentor, and the title of the proposal.
Mandatory Live Interviews will occur during the 2020 Retreat before the 49th Annual Child Neurology Society Meeting in San Diego, California.  Applications submitted by August 24th, 2020, will be screened to determine if the applicant  is eligible for the program, and all applicants will be notified of this decision. Candidates who pass the screening will be invited to travel to San Diego, California to the Child Neurology Society Meeting to attend and engage with members of the National Advisory Committee (NAC) of the CNCDP-K12. The members  of  the  CNCDP  Steering Committee, NAC and Counselors are listed below. Care will be taken to have interviews conducted so that there is  no  conflict  of interest present, for example the candidate's previous chairs, training directors or research mentors will be excluded.  The CNCDP-K12 program office will provide support for travel and hotel expenses for candidates to attend the interviews in Chicago.  It may be appropriate for the candidate's home institution to provide some travel support.
ANNUAL RETREAT: 
The annual retreat will be from October 17th – 19th, 2020 in San Diego, California prior to the annual Child Neurology Society Meeting.
Current CNCDP and NSADA scholars will present their research and new applicants will be interviewed. It is expected that current scholars and new applicants attend all days of the Retreat.
Members of the CNCDP Executive Leadership Committee: Bradley L. Schlaggar, MD, PhD, Program Director; Michael V. Johnston, MD, Associate Program Director; Amy Brooks-Kayal, MD, Co-Director; Barry Kosofsky, MD, PhD, Co-Director; Erika Augustine, MD, Diversity Officer; Heather Fullerton, MD, MAS, Co-Director; Brenda Porter, MD, PhD, Co-Director; Jonathan Mink, MD, PhD, Co-Director. (Members of the Executive Leadership Committee will not vote on the selection of the candidates to be funded, but may interview candidates.)
Members of the CNCDP National Advisory Committee: J. Michael Dean, MD, MBA; Donna Ferreiro, MD; Karen Johnston, MD, MSC; Michael Robinson, PhD.
Members of the CNCDP Scientific Advisory & Review Committee (SARC): Anne Anderson, MD, PhD; Alexander Bassuk, MD, PhD; Timothy Benke, MD, PhD; Nicole Calakos, MD, PhD; William T. Dauer, MD; William D. Gaillard, MD; Christina Gurnett, MD, PhD; Chris Iknonmidou, MD, PhD; Lauren Krupp, MD; Elizabeth McNeil, MD; Scott L. Pomeroy, MD, PhD; Renee Shellhaas, MD, PhD; Carl E. Stafstrom, MD, PhD; Kevin J. Staley, MD; Huda Zoghbi, MD (Members of the SARC may interview candidates and vote on funding of candidates at meetings of the SARC.)
Key Features of the CNCDP-K12
Scholars must be appointed to the faculty of their Institution and all candidates must be U.S. citizens or lawful permanent residents with a green card.
A minimum of 75% of the scholar's time must be protected for research.
Budget Includes salary up to $85,000 per year plus fringe benefits and $38,000 per year for research related expenses Including travel for a total of 3 years. Indirect rate is 8%. Funds are provided through a subcontract with the CNCDP-K12 program office.
Continued funding is dependent on scholarly progress.
The goal of the program is for the scholar to undertake a significant research project that can be coordinated with the scholar's clinical activity and prepares the scholar for an Individual career development award such as a K08 or similar award.
The research project must fit in with the NINDS mission: to seek fundamental knowledge about the brain and nervous system and to use that knowledge to reduce the burden of neurological disease.
Continued funding is dependent on the scholar's project and support can be withdrawn if progress is not satisfactory.
Candidates must gain a comprehensive appreciation of the principles of experimental design, statistics, and scientific rigor as presented in http://www.ninds.nih.gov/funding/transparency_in-reporting_guidance.pdf.
Scholars must receive all required education and certification for use of animals In research and/or human subjects as appropriate to their research project, to be provided by the home institution.
Scholars will be expected to write a K award to be submitted for funding before or within 6 months of the end of their third year of CNCDP·K12 research support.
Assuming scholars have been productive and competed for federal research support, Institutions will be required to support them up to an additional 18 months of salary to enable scholars to continue to have a minimum of 50% protected time during that period to resubmit a K award if necessary.