We can't wait to welcome you to Kennedy Krieger Institute's Neurodiversity in the Workplace: A Collaborative National Conference! Here's important information to assist you in preparing for the event. We look forward to a successful conference with you.
Conference Dates and Times (full conference agenda available here):
March 22, 4 – 8 p.m. | March 23, 7:30 a.m. – 8 p.m. | March 24, 7:30 am – 4 p.m.
*Registration Opens at 4 p.m. on March 22 in the Independence Foyer
Location/Hotel:
Marriott Marquis Washington, DC
901 Massachusetts Ave NW, Washington, DC 20001
Map | Hotel Website | Tel: 202-824-9200
Getting Around
Parking Options: Valet parking is available at the hotel for $60/day. Other nearby parking garages are located at 1011 10th St NW (Colonial Garage 958) and 1017 12th St NW. Please visit Spot Angels and Parking.com for additional locations and pricing.
Public Transportation: Mt. Vernon Square 7th/Convention Center and Gallery Place/Chinatown are the closest Metro stops and Union Station is located 1.4 miles from the hotel. Please visit the WMATA website for additional information on route options, schedule and fares. 
Event Highlights
Wednesday night: Let's Roam! DC Scavenger Hunt. NOTE: Pre-registration is required. Sign up here by March 15th and download the Let's Roam app. More instructions will be provided.
Thursday night: Networking Reception featuring The Neurodiversity Rock Band. Bring your dancing shoes!
CE Qualification: Attendees will be emailed a certificate to submit for credits post-event.
Need Additional Information?
Please visit the conference website and download the conference mobile app (see below) or email NDatWork@KennedyKrieger.org. 
Event Locations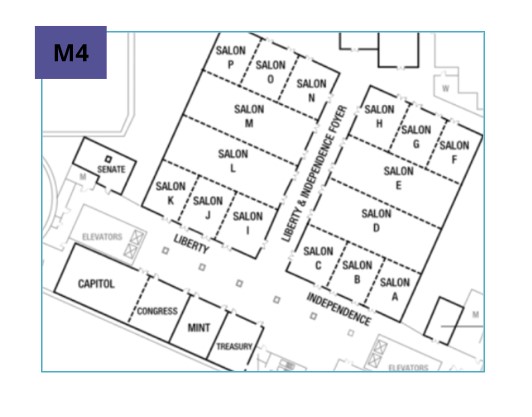 All sessions will take place on Meeting Level 4 (M4)
Independence Foyer:
Registration/Help Desk
Vendor Tables 
Independence Rooms:
Keynotes, Plenaries 
Meals and Receptions
Liberty Rooms:
Get the Event Mobile App!
The event mobile app is your source for all conference information. Please click here to view instructions for downloading and joining the Event app from your mobile device.