Celebrating Those Who Give! Meet Shari Tompkins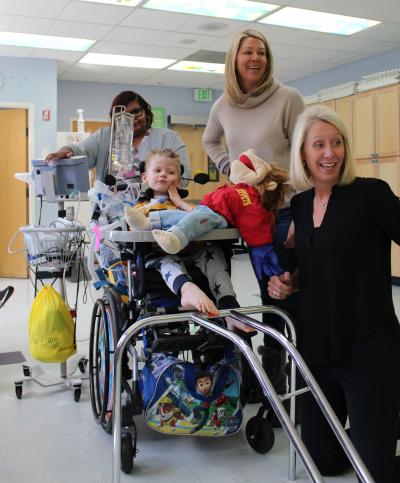 Note: This story is from a WIN email delivered on 7/22/21.
In our "Celebrating Those Who Gives" series we spoke with Shari Tompkins.
What should our audience know about your background?
I was born and raised in Baltimore, so the city means a great deal to me, and I'm always interested in finding ways to "make it better." I graduated from Randolph-Macon College with a double degree in French and elementary education. I taught school in the Washington, D.C., area for seven years, then moved back to Baltimore, where I taught at Calvert School until 2002, when my first son, Jake, was born. Subsequently, I was substitute teacher while raising my boys. Now that my boys are older, ages 18 and 16, I enjoy using my free time to volunteer for various organizations—especially WIN and Kennedy Krieger.

How did you learn about WIN?
I had heard about WIN and Kennedy Krieger through various friends and attended my first Hats & Horses event in 2016. My good friend and fellow WIN member, Aimee Fulchino, contacted me sometime in 2018 and asked if I would be willing to co-sponsor the Wine Walkabout event that winter with Emma Young. I agreed and that event gave me the experience and knowledge that has kept me interested and involved ever since! 

How have you been involved with WIN?
I officially became a WIN member in October 2018 and since then, I've participated in several events and activities. In the beginning, I attended meetings to familiarize myself with WIN and all it has to offer. Next, I began volunteering in the Child Life and Therapeutic Recreation playroom for WIN Wednesdays. It seemed like a natural way for me to get involved due to my teaching background. After my first morning volunteering, I was hooked (and teary-eyed)! It was a real eye opening experience and it really made me appreciate that neither of my boys has experienced any serious medical conditions. I will never take good health for granted. Seeing these kids with smiles on their faces despite their situations was so inspiring and all I wanted to do was help contribute to that happiness. In 2018, 2019 and 2020, I co- chaired the Wine Walkabout events. I have also served on the Hats & Horses committee for several years and really enjoy attending the events and getting friends and family involved.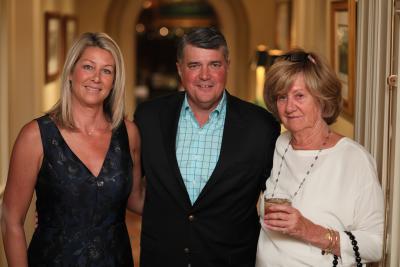 This year, I co-chaired the Wine Walkabout event, which was virtual, and hosted a gathering at my home. It felt great to achieve our fundraising goal despite the pandemic and various setbacks. I am really looking forward to co-chairing, along with Aimee Fulchino and Cynthia Cavanaugh, this year's Hats & Horses event in September, and am especially excited that it will be in person! It will be amazing to finally be together with this wonderful group of people in the name of a great cause! I'm also really looking forward to getting back in the Child Life and Therapeutic Recreation playroom with the kids.

What's your favorite WIN memory?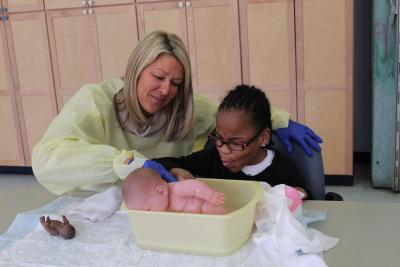 I have many favorite WIN memories, but one of my favorites is of working with a young boy who used a wheelchair and had very limited movement in his arms and legs. He loved to play games, especially "bowling," so I assisted him, and he got a huge smile on his face every time he made a strike! I was able to work with him four different days and we created a sort of bond. The last day I saw him, his father came in the room and watched as we participated in one of his favorite games. The look of gratitude in his father's eyes said it all. Experiences similar to this have made me even more grateful for my family and overall health in general. On nights after I volunteer, I often share my experiences with my sons and husband. That has opened up discussions regarding giving back and the overwhelming sense of "good" you feel helping others. My boys have seen how it has positively influenced my life, and I hope that they will always find time in their lives to give.

What would you say to encourage others to join WN?
One of the best ways to get involved with WIN is to take a tour of Kennedy Krieger. I took my husband, John, and it was truly amazing. Once you see the facilities, equipment and kids, it's hard to turn your back. Another fun way to get involved is to attend the various social events and happy hours with other WIN members. It's so nice to get to know this wonderful group of people and hear their WIN memories and stories. I am looking forward to many more years of being involved with WIN and Kennedy Krieger!

Thank you, Shari for your compassion, hard work and leadership!