"I decided at a pretty early age that I wanted to be a doctor," says Shannon, who just turned 19 and starts her senior year of college in the fall. She loves science and is particularly interested in neonatology, which focuses on medical care for infants.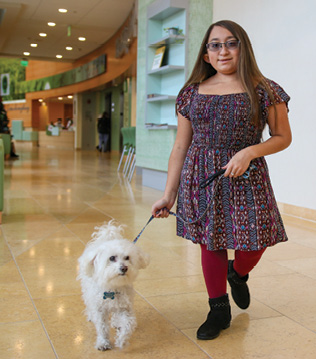 Shannon has one of the more severe forms of osteogenesis imperfecta, also known as "brittle bone disease," a rare disorder that weakens collagen, bones and other parts of the body. She's been a patient at Kennedy Krieger Institute for the past decade, working with specialists in a variety of fields, including bone health, audiology, neurology and physical therapy.
But her exposure to the medical field has done more than keep her healthy and thriving. "I've been in and out of the hospital since I was a baby. Talking with doctors and nurses, and witnessing the great things they do, I've always admired them and wanted to be like them one day."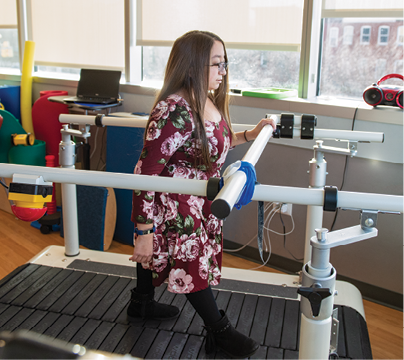 Because medical school will be rigorous, "I want to be in the best physical condition I can, so getting the best possible treatment is important to me." That's why she travels from Wisconsin to Baltimore a few times a year to receive care from leading experts in osteogenesis imperfecta.
"The first time I met Shannon, I could tell right away she was a highly determined person," says Dr. Mahim Jain, who oversees care for about 150 patients from around the world—children and adults—with osteogenesis imperfecta at Kennedy Krieger's interdisciplinary Osteogenesis Imperfecta Clinic. "She was asking very detailed questions about her blood work, bone density and treatment. I was very impressed by how much she knew."
That was when Shannon was 16. Over the years, she and Dr. Jain have developed a strong rapport. Together, they review her medications and bone scans and discuss potential treatments. After a DNA test revealed the genetic mutation causing Shannon's type of osteogenesis imperfecta—Type 4— they talked about the results' implications. "Now, I anticipate her questions so I can give her the very specific answers she's looking for," Dr. Jain says.
Therapy With a Shot of Espresso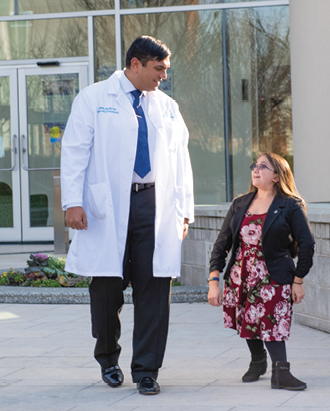 This past fall, Shannon stayed at the Institute's inpatient hospital for four weeks of rehabilitation following spinal fusion surgery at The Johns Hopkins Hospital for scoliosis, a common condition for individuals with her type of osteogenesis imperfecta.
"After her surgery, we literally got her back on her feet," explains Dr. Suzanne Rybczynski, Shannon's attending physician during her inpatient stay and Kennedy Krieger's associate chief medical officer.
Shannon did several hours a day of intense physical therapy, six days a week, focusing on strength, endurance, walking and transferring in and out of her wheelchair, which she uses for long distances, explains Jenna Werner, Shannon's physical therapist while she was an inpatient.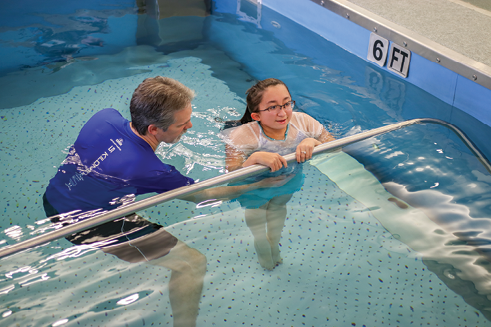 Once Shannon was able to stand upright again, she and Werner set specific distances each day for Shannon to walk. On the day before her discharge, they walked down the street to Starbucks, where Shannon ordered her favorite coffee drink—a vanilla bean Frappuccino with a shot of espresso.
"She came in needing help just to sit up or get out of bed," Werner says. "By the time she left, she was walking down the street. She did amazingly well."
Preparing for Medical School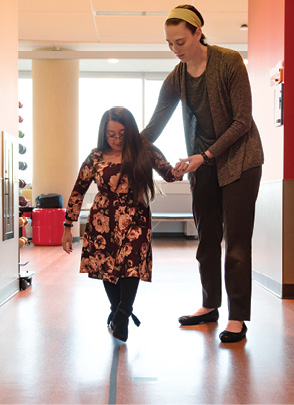 For a few weeks after her discharge, Shannon stayed in Baltimore for regular appointments with her specialists and outpatient physical therapy at Kennedy Krieger. During an aquatic therapy session with physical therapist Christopher Joseph, Shannon mentioned she wanted to attend medical school and study neonatology. Thinking quickly, Joseph offered to arrange for Shannon to shadow a neonatologist before she left.
On Shannon's last morning in Baltimore, she shadowed neonatologist Dr. Marilee Allen at Kennedy Krieger as she met with patients, then debriefed with her afterward in the clinicians' lounge. "It was a really cool experience," Shannon says.
This past summer, Shannon returned to Baltimore to shadow Dr. Jain for a few weeks, joining him for patient evaluations. That gave Shannon a chance to learn more about performing physical exams and interacting with patients and families.
Shannon plans to apply to medical schools later this year, and to start med school next summer. Given her strong motivation to become a doctor and her passion for the field, "I think she'll be a great physician," Joseph says.
Every year, we give hope to 25,000 kids. You can help more inspiring children like this with a donation this holiday season.
Support our Children
Support Us with your Donation
Need assistance? Contact us at HelpKids@KennedyKrieger.org or (443) 923-7300. Your donation is greatly appreciated.

The Kennedy Krieger Foundation is a 501(c)(3) nonprofit organization.
EIN: 52-1734695