When doctors told Journee's parents, Antwonn and Ebony, their daughter would likely never see, talk or walk, they refused to believe them. "We told the doctors that Journee would do all of that, and more," Ebony says. "If you have faith and believe in your child's ability to overcome obstacles, they will surprise you."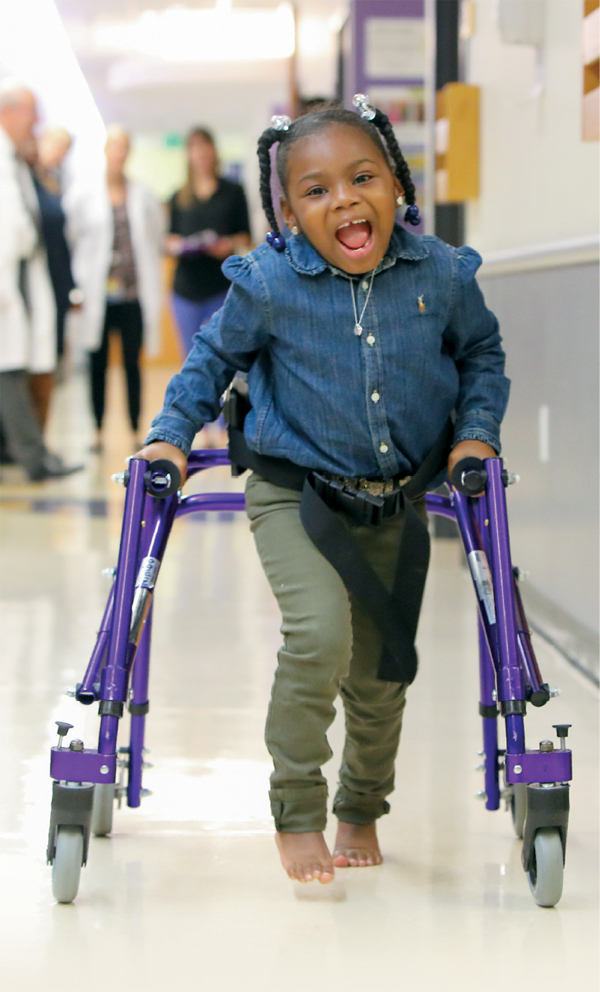 Journee, 5, was born with spastic cerebral palsy, a condition of extreme muscle tightness often resulting from an injury to the brain. Journee's earliest days were difficult, but her parents were determined to find treatment that would reduce her spasticity and support her cognitive and emotional development.
From the start, and with her parents' support, Journee defied doctors' predictions. At only a year old, Journee was thriving, meeting her verbal and physical milestones, surprising everyone with her near-perfect eyesight, and using her bright purple walker to explore her surroundings.
But because of her extreme spasticity, her knees wouldn't straighten and she couldn't flex her ankles. Journee walked on the tips of her toes—like an elegant ballerina, she said—but with a scissored gait, one foot crossing in front of the other. About 75 percent of the time, she needed a wheelchair for mobility.
Two Surgeries
Two years ago, Ebony's research led her to Johns Hopkins pediatric neurosurgeon Dr. Shenandoah Robinson and the Johns Hopkins-Kennedy Krieger Institute spasticity management team. Dr. Robinson is one of only a handful of neurosurgeons in the country performing selective dorsal rhizotomy, also known as SDR, to help relieve spasticity. In this neurosurgical procedure, Dr. Robinson makes a small incision in a child's lower back, locates abnormally firing nerve rootlets at the base of the spinal cord, and selectively snips them, leaving normally firing rootlets intact.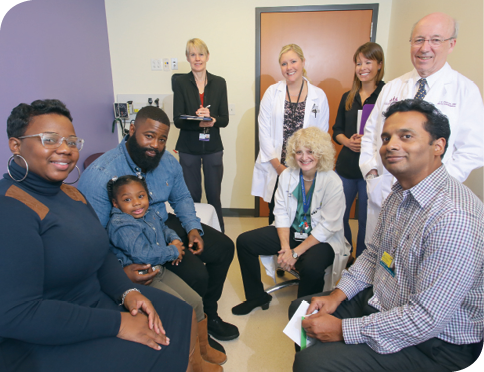 In February 2018, Ebony and Journee traveled from Boston to Baltimore to meet with Dr. Robinson, rehabilitation physiatrist Dr. Frank Pidcock, Johns Hopkins pediatric orthopedic surgeon Dr. Ranjit Varghese, and the other members of the spasticity management team. "We could tell she was very motivated to walk," physical therapy manager Janice Laux says, "but we could also see that walking was very fatiguing to her, because her leg muscles were so tight."
So tight, in fact, that before SDR surgery, Journee needed orthopedic surgery, explains pediatric nurse practitioner Colleen Lenz. The next month, Dr. Varghese, who also serves as Kennedy Krieger's medical director of ortho-cerebral palsy, made small incisions to the tendons in Journee's legs—just enough to lengthen them and relieve some of the tightness. Six months later, Journee returned to Baltimore for SDR surgery with Dr. Robinson, followed by two months of intense therapies at Kennedy Krieger's inpatient rehabilitation hospital.
Defying Expectations
Because SDR immediately changed the muscle tone of Journee's legs, she needed to learn "how to use her legs again, and how to walk with a nice gait pattern," Dr. Robinson explains.
"Initially, we were doing very basic hip and trunk strengthening, to get Journee to a point where she could take her first steps with her muscles moving in the right way," explains physical therapist Alissa Marzetti. Kneeling at a bench, Journee would play with princess dolls, helping them get ready for a ball, while strengthening her core and hips and having fun at the same time.
When it came time to relearn how to walk, Journee did a lot of gait training, often using the Institute's G-EO System, robotic technology that moved her feet through the correct walking motions while suspending her in a harness. By the time Journee returned to Boston, she was walking with her walker, with the correct gait pattern, for up to 200 feet, and could stand for a full 15 seconds—something Journee's family was once told would never happen.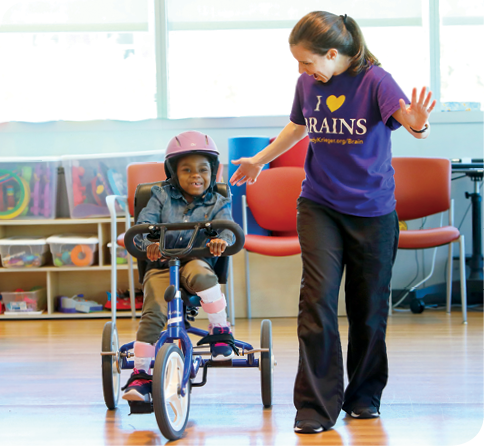 Because cerebral palsy had also affected movement in her hands and arms, Journee worked on a variety of developmentally appropriate tasks, such as how to get dressed and use scissors, with occupational therapist Scott Frampton. "She made such a good effort, even when things were challenging," Frampton says.
Journee's positive and determined approach to life made a big impression on everyone she met at Kennedy Krieger. "She's got a really magnetic personality that draws everyone in, whether you're working with her or not," Frampton explains. "There's no way to work with her without constantly having a big smile on your face."
Journee also received educational support during her inpatient stay. "Journee really missed going to school, and the educational activities motivated her and kept her on pace with her classmates back home," Ebony says.
A Superstar
This past September, Journee started kindergarten. When she entered the building with her bright purple walker, teachers and students gathered around, excited to meet the newcomer with the big smile. When Journee's peers asked about her walker, she simply said, "It helps me walk. I just walk a little differently."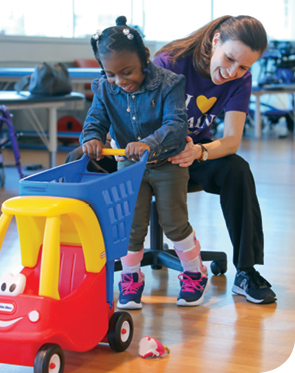 Outside of school, Journee does physical therapy and participates in adaptive dance classes, horseback riding, swimming and gymnastics. "That's four to five hours of therapy a week without her even knowing it," Ebony says. "It's what she loves, and she gets to be with her friends."
Of all the ways in which surgery and therapy have helped Journee, Ebony says it's Journee's self-esteem that has benefited the most. "These surgeries, and the love of her parents," Ebony says, "have added to who she is and her self-esteem."
Today, Journee uses her walker 85 percent of the time. She's an active 5-year-old and an inspiration to everyone she meets. Ebony attributes Journee's success to her daughter's unwavering desire to break down barriers, and to the amazing teams at Johns Hopkins and Kennedy Krieger.
What I've seen in Journee the most is how these surgeries have added to who she is and her self-esteem."
– Ebony, Journee's mom
Ebony and Antwonn always believed their daughter would walk—it's Journee's amazing spirit that's been the surprise. "Journee's light makes you feel good about yourself. She is a superstar," Ebony says. "Journee makes you feel empowered, just to see her authentic self, standing tall, purple walker and all."
Every year, we give hope to 25,000 kids. You can help more inspiring children like this with a donation this holiday season.
Support our Children
Support Children like Journee
Need assistance? Contact us at HelpKids@KennedyKrieger.org or (443) 923-7300. Your donation is greatly appreciated.

The Kennedy Krieger Foundation is a 501(c)(3) nonprofit organization.
EIN: 52-1734695