As Dale happily hovered in a swing during occupational therapy, his father, Gill, wondered: "Could I make one of these for Dale to use at home?"
A few weeks later, Dale, who has autism, had his very own therapy swing in the basement of his family's home in the Baltimore suburbs. Over the next few months, Gill added a mini trampoline and other equipment to form an entire sensory circuit for Dale, 7.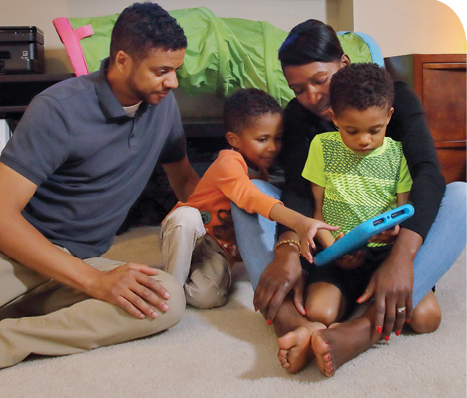 "Dale's a real sensory seeker, and needs an outlet for sensoryseeking in a controlled, safe environment," explains Gill, an engineer. "It was really fun seeing him use the equipment at home, not just at therapy."
Dale was diagnosed with autism at Kennedy Krieger Institute's Center for Autism and Related Disorders (CARD) when he was not quite 2 years old. His speech and development had started to regress, and he had oral dysphagia, an aversion to things being in his mouth. Kennedy Krieger occupational therapist Myrna Pittaway worked with Dale to develop his oral and fine motor skills, and to increase his tolerance for eating different foods and textures.
"When we got the diagnosis of autism, we didn't quite know what to think," says his mom, Gina, a teacher. "We'd had all these plans for him when he was born."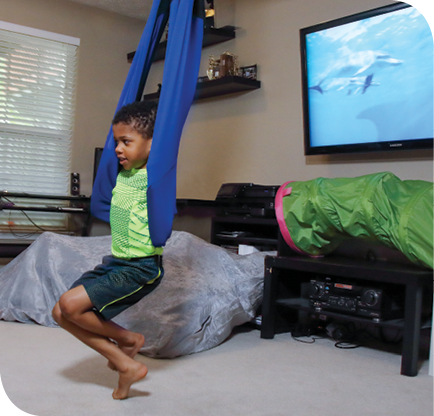 "It was a hard day, not knowing what the future would hold," Gill adds.
But Gina and Gill decided to look the future squarely in the face. They read up on autism, asked questions during Dale's therapy sessions, and became experts on their son. They shared what they learned with family members to increase Dale's circle of support. Dale continued with his therapies— at Kennedy Krieger and at home—and started attending a nearby preschool for children with autism.
And Gina and Gill kept an eye out for research studies on autism that Dale could join. They wanted not just to help Dale, but to take part in something that could ultimately help all individuals with autism. About two and a half years ago, they learned about SPARK.
We're very proud to be one of the 50,000 families participating in SPARK."
– Gill, Dale's dad
A Landmark Study
SPARK—short for Simons Foundation Powering Autism Research for Knowledge—is a research project recruiting 50,000 families to study the genetic basis of autism. Kennedy Krieger is one of 33 sites around the country facilitating DNA collection for the study by recruiting families to participate, and helping families register and collect DNA samples.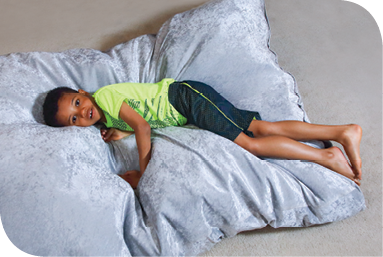 Each participating family sends in a tube of saliva for each biological parent, and for their child with autism. If the child has a full brother or sister who does not have autism, the family may send in a tube of saliva for that child as well. The DNA extracted from the saliva will help researchers better understand the causes and full spectrum of autism in order to develop and target therapies for the disorder, explains Bonnie Van Metre, a research coordinator at CARD and the Institute's project coordinator for the SPARK study.
Kennedy Krieger providers ask families who have a child with autism if they'd like to learn more about the study—all families with a family member with autism are welcome to participate. Typically, a family participating in the study receives its kit in the mail, spits into the tubes, and mails the tubes back to SPARK. But some kids with autism and oral dysphagia just aren't comfortable spitting into a small plastic tube. That was the case with Dale.
Part of Something Larger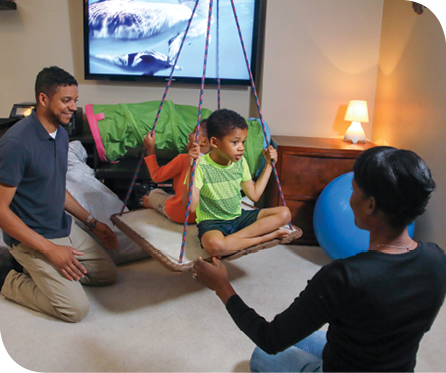 For the next two years, Gill and Gina kept the SPARK study on the back burner. Dale continued to make progress with his feeding—he now eats more than 40 different types of foods— but spitting into a tube just wasn't something he was up for.
Participation in the study remained elusive until Van Metre suggested an alternative collection tool for kids like Dale: a toothbrush-like implement with, instead of bristles, a little sponge at the end. Rubbing the sponge on the gums multiple times would collect a saliva sample.
And it worked! Dale's therapies had helped him progress to the point where he could tolerate this method of collecting saliva. Almost two years to the day after their first attempt to participate in the study, Gill and Gina sent in their samples, including one for Dale's little brother, Myles.
"We knew that we had to be a part of something that has the potential to uncover findings that could help individuals with autism," Gill says. "We're very proud to be one of the 50,000 families participating in SPARK. We really believe that more needs to be done to understand autism, and the SPARK DNA research study is one of the biggest steps in that direction."
Every year, we give hope to 25,000 kids. You can help more inspiring children like this with a donation this holiday season.
Support our Children
Support our Families
Need assistance? Contact us at HelpKids@KennedyKrieger.org or (443) 923-7300. Your donation is greatly appreciated.

The Kennedy Krieger Foundation is a 501(c)(3) nonprofit organization.
EIN: 52-1734695