Join us by volunteering at the 33rd annual Festival of Trees and get into the spirit of the season while helping Kennedy Krieger help others.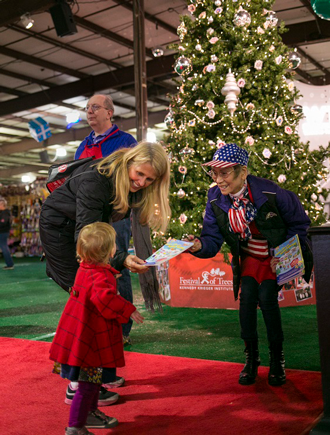 More than 400 volunteers are needed for all phases of the three-day event (before, during and after), including setup, the event itself and breakdown. 
Volunteer Opportunities BEFORE Festival of Trees include cleaning & preparing signage, building tree groves, tree assembly, holiday decorating of the Festival, laying snow, and many other tasks and activities.  
Thursday, November 17: 9am to 1pm & 1pm to 5pm 
Friday, November 18: 9am to 1pm & 1pm to 5pm  
Saturday, November 19: 9am to 1pm & 1pm to 5pm 
Sunday, November 20: 9am to 1pm 
Monday, November 21: 9am to 1pm 
Tuesday, November 22: 9am to 1pm 
Volunteer Opportunities DURING Festival of Trees include assisting with the Toy Drive, greeting & directing attendees, helping Santa, and many other activities throughout the event. (*These shifts are the most critical to fill) 
 Friday, November 25 & Saturday, November 26 
7:30 a.m. to 12 p.m. (Event opens Early for Private events) 
11:30 a.m. to 4 p.m. 
3:30 p.m. to 8 p.m. 
Sunday, November 27 
9:30 a.m. to 1 p.m. 
12:30 p.m. to 4 p.m. 
 Volunteer Opportunities AFTER Festival of Trees include breakdown, tree packing, inventory, distribution of trees and gingerbread houses and many other tasks and activities. 
Sunday, November 27: 3:30pm to 8pm 
Monday, November 28: 9am to 1pm 
Who can volunteer? 
All ages and abilities. 
Volunteers 15 years or younger must volunteer with a guardian. (This is a great opportunity to earn service hours for school!) 
All volunteers must be fully vaccinated for COVID-19. Fully vaccinated is defined as being two weeks beyond the second dose of either the Pfizer or Moderna COVID-19 vaccine OR two weeks beyond a single dose of the Johnson & Johnson COVID-19 vaccine. (Please note: Masking will be required) 
Volunteering with friends and colleagues is always much more fun!! 
We encourage corporate and community groups to volunteer together! We can add your company or organization name to the registration process so that we know which volunteers are part of your group. 
Questions regarding volunteering, contact FOTVolunteers@KennedyKrieger.org  
Kennedy Krieger Employee Volunteer Opportunities 
We rely on the help of Kennedy Krieger Institute employees to make Festival of Trees possible. Some of the unique volunteer opportunities we offer to Kennedy Krieger employees and their friends and family are: 
Sales Booth: Assist attendees with their tree, wreath and gingerbread house purchases 
Information / Raffle Booth: Assist attendees with general information questions and sell raffle tickets (Outgoing personalities are appreciated!) 
Auction Lead: Assist volunteers that are watching over the auction items, answer questions and assist bidding online 
General Operations/Floater: Assist where needed; fill in at various roles to cover for meal & rest breaks 
Toy Drive: Assist with the collection & logging of donations 
Register to volunteer