Festival of Trees is an iconic event, and Kennedy Krieger will be creative and proactive in its pursuit of promoting this event.
The 2022 Festival of Trees will be extensively promoted through paid and donated media placements, an aggressive public relations and social media campaign, email marketing, and the Festival of Trees promotional website. The media package is broad-based, reaching virtually all demographics.
Advertising and Public Relations
Advertising
The 2021 Festival of Trees marketing plan included placements with more than 25 media outlets, including ads and promotions on local radio stations, a television PSA, print advertisements in magazines and newspapers, and digital advertising and sponsored articles on event and lifestyle websites. These placements generated millions of impressions in the Baltimore metropolitan area.
Public Relations
A comprehensive Public Relations campaign will be developed to ensure that the event and its sponsors receive maximum exposure. This will include calendar and news releases, as well as media pitches that will result in story/interview placements.
In 2021, the public relations campaign for Festival of Trees resulted in 129 media hits (73 broadcast; 51 online; 5 print.) This includes mentions by local, national and international media outlets.
This resulted in a total estimated audience reach of 308 million people in the Baltimore Metropolitan market and beyond. This organically generated coverage equals $3.1 million in advertising value.
In 2021, Festival of Trees was featured on Kennedy Krieger's Facebook, Twitter, Instagram and LinkedIn pages. A strategic organic and paid campaign included pre-event, day-of and post-event coverage and ad flights.
Festival of Trees Website
All advertising and promotional campaigns are designed to direct consumers to visit the promotional website dedicated exclusively to Festival of Trees. In 2021, 33,500 users visited this site prior to Thanksgiving. The virtual event portal went live the Friday after Thanksgiving and more than 22,000 households viewed/visited the event site through Festival weekend.
As a sponsor, your organization's four-color logo would be displayed on our sponsor page, along with a direct link to your organization's website, or possibly to a jump page featuring any special offers or discounts you may want to offer during the holidays.
Sponsors giving at the Bronze Level ($10,000) or above will have their logos featured in a promo section on the event homepage.
Examples Of Festival Of Trees Promotional Materials (2021)
Full Page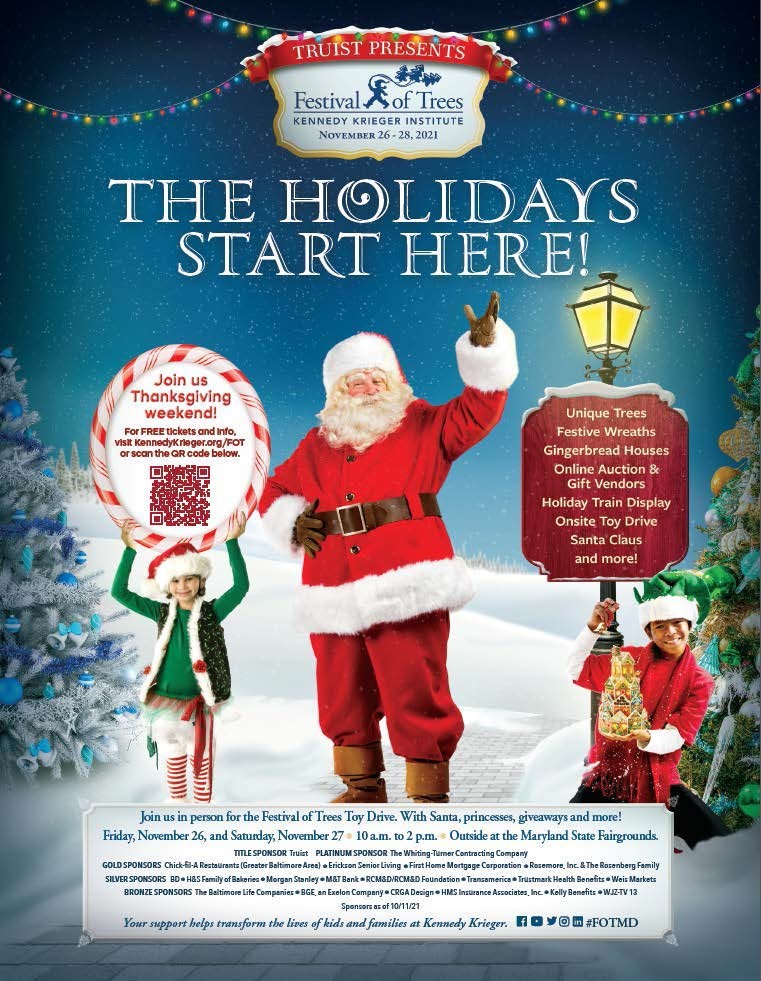 Two-Page Thank You Ad in Baltimore Magazine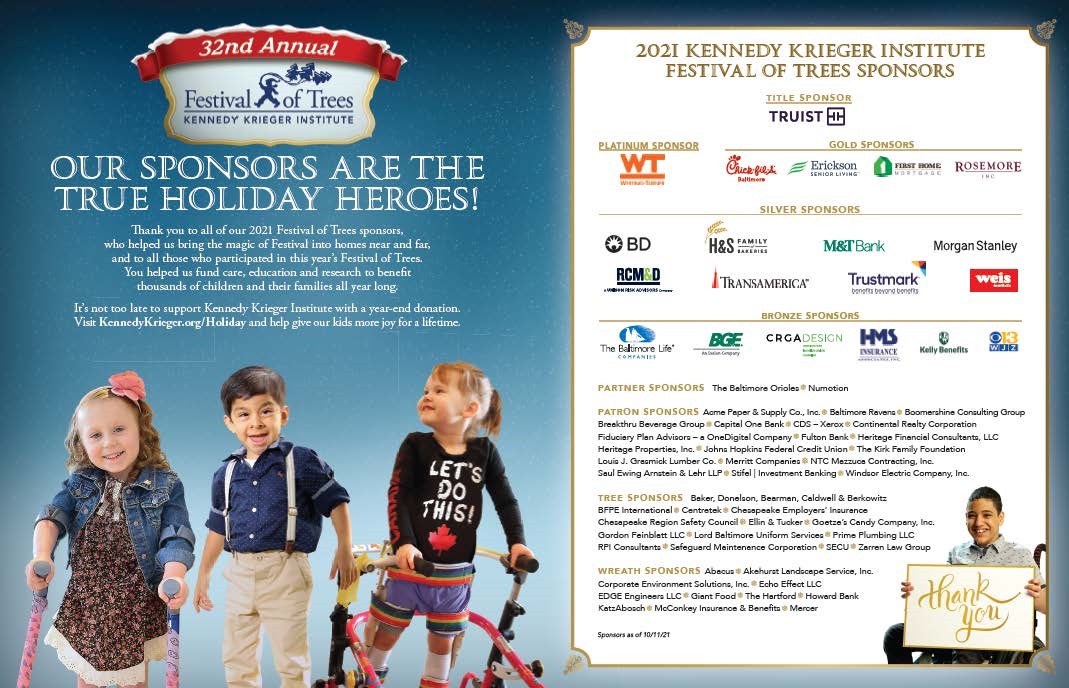 Direct Mail Postcard (Front and Back)