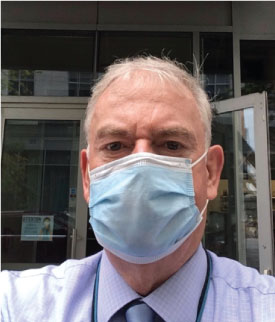 Professor of Radiology and Oncology
Phone: (410) 955-1740
email: pbarker2@jh.edu
600 N Wolfe St., Park 367B
Baltimore, MD 21287
United States
Research Departments
Division of Neuroradiology, The Russell H. Morgan

Department of Radiology and Radiological Science, The John Hopkins University School of Medicine.
About
Dr. Peter Barker is research scientist and Professor of Radiology and Oncology at the Johns Hopkins University School of Medicine.
Education and Career
Peter Barker, D.Phil., is a Professor of Radiology and Oncology at the Johns Hopkins University School of Medicine in Baltimore, Maryland, USA. He has been active in magnetic resonance research for over 30 years, since starting his graduate studies on the development of techniques for high resolution NMR spectroscopy in Professor Ray Freeman's group at Oxford in 1982. After a post-doctoral fellowship in Pasadena at the California Institute of Technology/Huntington Medical Research Institute, he moved to Johns Hopkins in 1989 as Assistant Professor of Radiology. From 1994 to 1997 he was a member of the Senior Bioscientific Staff, Department of Neurology, Henry Ford Hospital, Detroit, MI. In 1997 he returned to Johns Hopkins in the Division of Neuroradiology.
Dr Barker is a Deputy editor for 'Magnetic Resonance in Medicine', Special Editions and Reviews Editor for 'NMR in Biomedicine', and a member of the Editorial Board of the 'Journal of Neuroimaging'. He was a member of the ISMRM board of trustees from 2015 to 2018. He has served as a frequent reviewer for numerous journals and grant agencies, including the NIH, and was a charter member of the MEDI study section from 2008 to 2012. Dr Barker is also a member of the Johns Hopkins Medicine Institutional Review Board (IRB). Dr Barker has published 3 books with Cambridge University Press on Clinical MR Neuroimaging, Clinical MRS, and Clinical MR Perfusion Imaging.
Research
Dr. Barker's research focuses on developing new methodologies for Magnetic Resonance Spectroscopy (MRS) and imaging (MRI) and to apply them to better understand and diagnose neurological, psychiatric and oncological disease in humans. In recent times MRS methods at high magnet field strengths (such as 3 and 7 Tesla) has been a focus, as well as the development of spectroscopic imaging (MRSI) and spectral editing methods for lower concentration, difficult to detect compounds. Other interests include the development and application of methods for MR perfusion imaging. Dr Barker's research is currently funded by grants from the NIH (National Center for Research Resources and the National Institute of Biomedical Engineering and Bioengineering) and the Department of Defence.
Related Links 
https://scholar.google.com/citations?user=_pG9EqUAAAAJ&hl=en&oi=ao
Research Publications
http://www.ncbi.nlm.nih.gov/pubmed?term=barker_pb%5BAuthor%5D&cmd=DetailsSearch