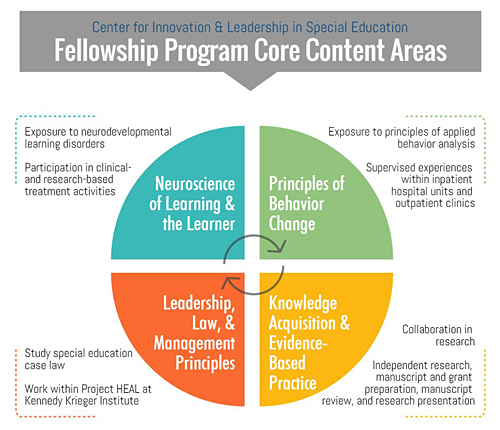 The residency is structured to include in-depth experiences in four primary ("major") content areas necessary for leadership in the fields of special education and neurodevelopmental disabilities. All fellows receive training in each of the four primary content areas concurrently. The fellowship is structured such that approximately 50 percent of the fellow's time each week is spent in activities directly related to the major content areas during the first six months of the fellowship, and 25 percent of the fellow's time is spent in the primary content areas during the second six months. The primary content areas include:
This content area will emphasize the broad spectrum of neurodevelopmental learning disorders, from mild to severe, with exposure to a broad range of conditions, both acquired and congenital. Through participation in a series of interdisciplinary rounds and clinics, the fellow will be exposed to methods of identification and assessment of disorders of cognition and learning, including approaches to identification of neurocognitive dysfunction used in the disciplines of neuropsychology, speech/language pathology, neurodevelopmental medicine, special education, occupational therapy, and physical therapy. The fellow will also participate in clinical and research-based treatment activities designed to facilitate improved cognitive function, and will apply these principles to children in the classroom setting.
Fellows will be exposed to principles of applied behavior analysis, as they are applied to ameliorating behavior problems in individuals with neurodevelopmental disorders. Training occurs through supervised experiences in inpatient hospital units and outpatient clinics throughout the Neurobehavioral Continuum and within Kennedy Krieger School Programs.
The goal of this content area is to prepare the fellow to develop, acquire, translate, and use appropriate scientific knowledge in the instruction of children with neurodevelopmental disorders. Central to this rotation is training in the basic principles of research design, with the goal of improving the fellow's skills in critical review of published research. Additionally, the fellow will be trained in methods of scientific literature review and its application to daily educational practice. The ultimate goal is to prepare the fellow to function in a leadership role using evidence-based best practices within the educational community. During this rotation, fellows will work with a faculty mentor on a critical review of a topic of controversy within the field of neurodevelopmental disabilities. 
In this content area, fellows will learn about administrative education leadership, school law, funding of special education services, program evaluation, and management of resources. They will also be exposed to methods for bringing new ideas into practice within complex educational systems, and networking with education leaders (both local and national) who can facilitate the implementation of new programs upon return to the field. Through work with Project HEAL, Kennedy Krieger's Medical-Legal Partnership, fellows will be exposed to special education case law and it's applications within the school setting.  
Neuroscience of Learning & the Learner
Principles of Behavior Change
Knowledge Acquisition and Evidence-Based Practice
Leadership, Law, & Management Principles