The Promise Campaign will provide the necessary means to ensure that PACT can continue its mission of providing services to fragile young children during this critical time in their lives.
The first five years of a child's life are the most critical in terms of development.
A pact is a promise. But at PACT: Helping Children with Special Needs, a promise means so much more:
A fragile toddler who needs around-the-clock nursing care is promised a safe and caring place to learn, laugh, and make new friends.
A baby who is living in a loud, over-crowded homeless shelter is promised a warm and nurturing place to rest and grow each day.
A parent who has an intellectual disability is promised support and trust to help her care for her young child.
For these young children and their families, PACT represents hope that is founded on the belief that even the most fragile young children deserve a good start in life. By supporting this campaign, you're helping to:
Keep our programs affordable for families that need them
Increase accessibility by providing transportation to and from our programs
Offer the counseling and service coordination necessary for a seamless transition into the next chapter of their lives
Since 1981, PACT has been a lifeline for families who have nowhere else to turn, by providing specialized child care and family support. PACT understands and helps families so well, because PACT is a family of dedicated and caring child care providers, nurses, therapists and staff members with tremendous expertise, experience, and heart. We see the promise in every child who comes through our doors.
Thank you for your support!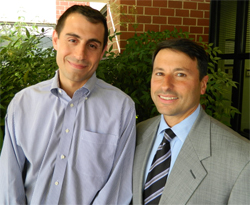 Matthew Gotlin & Anthony Rosso
Promise Campaign Co-Chairs